:~*~:. .:~*~:. .:~*~:. .:~*~:. .:~*~:. .:~*~:.:~*~:. .:~*~:. .:~*~:.:~*~:. .:~*~:.:~*~:
Working On Changing Me
I was doing really well on exercise until this week, and with going to the city on Wednesday, being laid out in my chair sick on Thursday, then going to the city again on Friday, being laid out in my chair again Saterday with exhaustion… well, my exercise this week has gone down the tubes.
*** Truth is: Yes, I was really exhausted, BUT I could have done 'something'. In fact a little activity likely would have helped me feel better. Instead, I allowed myself to sit in my chair. I just gave myself lots of excuses to drink soda, eat chocolates, sit in my chair and get fatter. Like, "Yeah, I want to lose weight, but there's always tomorrow." It's just easier to be lazy and rationalize why I do nothing, than do the hard work of changing.***
Before this week I had been doing an hour 3 times a week. But, I started to realize that not exercising for 4 days a week really wasn't the best thing for my heart. Also it makes me lose my 'focus' on building a healthier lifestyle. So, I have decided that what I really want to do is exercise 35 minutes a day for a minimum of 5 days a week. This will be good for my ticker and keep me reminded that I really want to have a healthy lifestyle (every day). I want to build a 'habit' of lifestyle changes.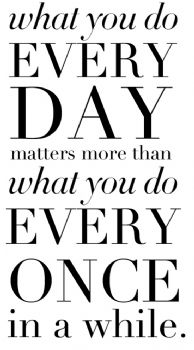 I have some quotes on my bathroom mirror, such as "Being thin and healthy is more important to me than any food." I put them there so I will say them to myself, but I go to say them and then won't do it. WHY? Because I really didn't want to give up those foods. I hadn't made the choice to give them up, and I didn't want to say those quotes because I felt that if I said them I would then 'almost automatically' start staying away from those foods. And, I wasn't ready to give them up, so therefore I wouldn't say the quotes. Now I know I really have to start making myself say them, so that those words will start getting (programmed) into my psyche, and so I (do) start making the life changes. Cause after all, change starts in the mind. If you don't change your mind than you won't change your behaviors.
I have a habit of 'forgetting' what changes I want to do in my life, so I am typing out a contract to myself that I will say to myself at the start of every day. And, reading this every day will also help 'program' my mind.
Also, I am putting some quotes into my computer and will print them out in large size and place them around the house to help me keep my focus.
This is the contract I'm doing:
I, ______________, am ready to work hard and keep at it when circumstances work against me. I'm taking control of my food issues once and for all and focusing on my optimal health and fitness. I will give my best every day.
From now on I will be truthful with myself even when it hurts. I will no longer buy my old excuses. I accept that I have been slacking in some areas, but now I am done living in disappointment. I am ready to be totally committed to a new life, no matter what curve balls life throws my way. In order to do this forever, I take responsibility for my thoughts and behaviors. I maintain a positive attitude about nutrition and exercise for my body.
I accept that this is going to be difficult some days and that at times I will be frustrated and uncomfortable. I also know that doing anything great and worthwhile requires patience, perseverance, and endurance. I agree to complete cardiovascular exercise 5 days a week for a minimum of 35 minutes, and to progress to strength training 2 times a week for 20 minutes each time. I choose to stop living to eat and start eating to live.
As I attain my goals, I will continue to put premium food into my body. By living according to this agreement, I will put an end to the old me. I am done fighting this war! I completely and enthusiastically surrender to living a healthy lifestyle permanently.
:~*~:. .:~*~:. .:~*~:. .:~*~:. .:~*~:. .:~*~:.:~*~:. .:~*~:. .:~*~:.:~*~:. .:~*~:.:~*~:
No Longer The Dogs World
For a few weeks now I've been working on NOT allowing my dogs to totally take over my life. They were SO demanding; especially Mocha. But, shock of all shock I learned that ( I ) am the problem.

Cause I let Mocha get away with being demanding. Now when he demands "up" I look hard at him till he drops off me, which can take a bit as he (slowly) slides lower and lower hoping that before he gets to the ground I will change my mind. His little toes cling to my chair as his belly slowly arches down towards the ground, and finally he will drop his little claws off my chair.
Before I started doing this; if I just told him "off" he would go 'act out', getting into whatever he could find to get into. A real little terror. Now he knows "the gig is up" and he just goes and lays down. A 'miracle'!!! Here all this time I just thought I had an out-of-control dog, and all his needed was a firm message of what he was and wasn't going to get away with. And, since then he doesn't DEMAND attention umpteen times a day - which always drove me nuts!
Also, the last few weeks I have been 'sharing' them with Chuck. When Chuck is home I send them downstairs, and I 'get a break'. After all, I have been pretty much 24/7 with dogs since 2007, and I am 'dogged out'. Almost never a 'baby sitter'. I need some 'me' time. And, also it gets the dogs bonded to Chuck in case I pass away from my heart failure.
To begin with the dogs absolutely hated leaving 'mama', but now they have bonded well to Chuck. This arrangement is just really good for both them and I.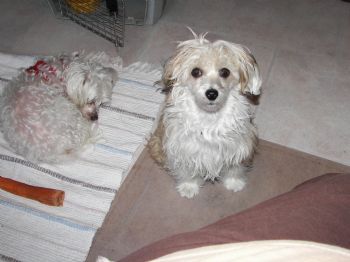 :~*~:. .:~*~:. .:~*~:. .:~*~:. .:~*~:. .:~*~:.:~*~:. .:~*~:. .:~*~:.:~*~:. .:~*~:.:~*~: