Sunday, February 24, 2013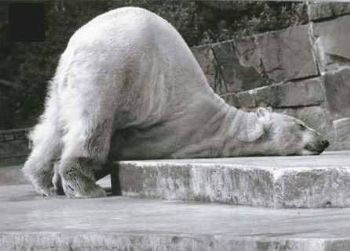 I am so exhausted, although I'm going to church for the morning service, I'm not going tonight and will be back in the bed at 7 pm for another 10 hours of work tomorrow. I've been getting up at 3 am to go in and work til 3:30, then I come home and crash HARD! My body is exhausted!
On the positive note I've lost weight this week, due to the extreme physical work I do. I pushed these lines full of clothing, around bends, curves, and long distances for 10 hours. I ache from my head to toes, especially my hands and feet. I plan to take it easy, but find it a struggle to walk or grip anything without pain. Even typing this my left hand is shooting pain up my arm, but I have to give the muscles time to rest. They gave me a hand brace yesterday because the pain was so severe. I am praying so hard for a new job in 2013, but for now to pay my bills I must press onward!
well I'm off to get ready, I will write a little more when I get home and settle in for an early night....
** Update **
I had a wonderful time at church, although I found myself sitting more than I normal do while playing my guitar. I was just blessed to be able to go. I came home and my husband told me to rest until bed. He got the laundry going, the kitchen cleaned, the dog bathed, all those things that mom does on a normal basis, but with all the overtime I"m just run down. I have to be in the bed at 7 to get up early so I'm eating a light dinner then I will shut things down and just rest for the next 2 hours! I pray you all have a very blessed week, I will try to check in when I can this week!!!
Hugs,
~Angie