Sunday, February 24, 2013
This weekend has been crazy lol! I went to my sister's after the gym Friday to cook dinner with her for a semi weekly family dinner we have been trying to do. While there her little pug went into labor. My sister asked me to stay and help and so I did. We were up until 4:30 am helping the poor little thing. We thought they were going to be puggles (pug/beagle mixes) so I decided to name one hogwart :) It looks like they may be mixed with something else lol but the harry potter thing still stuck so we have Hogwart, Hermione, and Harry. THEY ARE SO CUTE!!!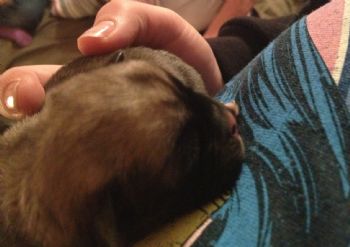 Today's weight: 234
Friday's weight: 235.6
Friday's goals:
45 mins of cardio - 55

10 cups water - 14

Feed day -

Saturday's goals:
45 mins of cardio - 51

8 cups water - 8

Fast until 6pm -

Today's goals:
40 mins cardio
8 cups water
feed day.