Ralph Marston's post from yesterday (and most of his posts) really speak to me. This one in the sense that as we approach a new month, I look at some new goals, but realize that day by day I have to 'ENJOY' the journey... I share his post with you...
BEGIN THE JOY
Although your goal may be distant, the pathway to it is not. The path is right here, right now.
Even the most ambitious achievements are built one step at a time. The next step is always ready for you to take.
Don't be frustrated about how long it will take. Get excited and enthusiastic about how much you can do right now.
Living your dream begins long before the dream is fully achieved. Living your dream begins the moment you take the very first step toward it.
The satisfaction of reaching the goal is built in the efforts you make to reach it. From the moment you begin, you can start to feel that satisfaction.
There's a whole lot of joy to be created in the journey. Begin the journey, and begin the joy.
— Ralph Marston
greatday.com/motivate/in
dex.html#ixzz2Lou2qOm1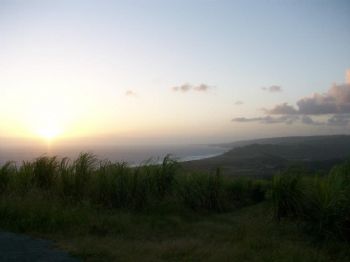 Like this picture I took as I watched the sunrise on Cherry Tree Hill in Barbados... every day is an opportunity to begin a NEW life, a new challenge, a new idea...
Dive into the day and begin the JOY no matter where you are at in your path towards your health goals!
It's been about a week since I got back home and finally starting to get grounded again. Looking forward to a productive and healthy week ahead!! Wishing you all an amazing NEW day!!