I feel like I'm rounding third and being waved into home this week! I'm posting this super late, as I am 29weeks and 5 days today, (oops!) meaning I'm am almost 30 weeks meaning I am almost there!!
It was a GREAT week! Hubby and I celebrated our 4th anniversary. I still feel silly getting so excited about that- since so many couples are in their 10th or 20th year together, but I'm 24, and that means that the majority of my adult life has been with one wonderful person and that brings me endless joy.
Since our anniversary fell on a Friday, we both took the day off work. We meant to just celebrate us, but as it turns out, we needed to complete some documentation at Home Affairs. I'm not even sure what this department is called in the US, but it's the place you register births, get passports, and so forth and it's ridiculous. I've spent 8 solid hours in line at home affairs with thousands of other smelly, hot, crabby people. I was not looking forward to spending my anniversary there. But praise Jesus, the officer took one look at my giant stomach and pushed me to the front of the line. *All the heaven's rejoiced in my heart*. I was in and out in record time.
So I suppose I officially have a visible baby bump. And am enjoying the kindness of strangers when they noticed the watermelon in my shirt.
The rest of the day was spent on an adventure. We took a day trip 2 hours outside of Johannesburg to a small town called Parys. You read that right, and I cannot see how this little town reminded ANYONE of Paris! While not Parisian by any stretch of the imagination, it's a sweet sleepy town, with one main street of antiques and art galleries. I love it! It was ridiculously hot the day we went and we spent most of the day at a fantastic river side restaurant that makes the worlds best steaks. No lies. I had the chicken, and it was ok- great by other standards but paled in comparison to the rump on hubby's plate. *drool*
We found a bunch of great little photo op places. This one was taken at the end of the day as proven by my cankles. Also, a fantastic reminder to avoid straight on shots until well after May 2013. My hips have really...well... grown.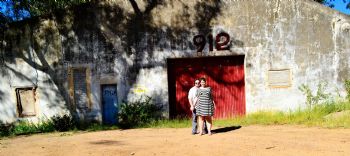 This bridge was made in 1919 and I tried REALLY hard to get a stellar couples pic on it using our self timer and a brick. But after chasing off a couple really mean vervet monkeys, and stepping over puddles of pee, we were evicted by a couple of scary men who got all up in our business with nothing good on their minds. Thankfully nothing happened, they just sat by our car and looked what was inside. *whew!*
We snapped this pic to at least prove that we were there.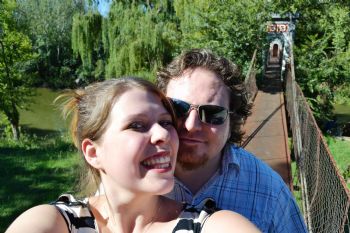 And boom. There's my belly.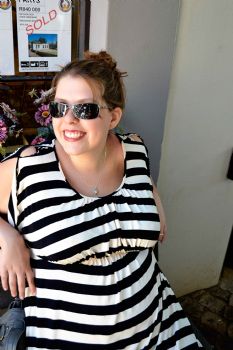 Also, we now have help around the house which is bringing me so much peace. Since the progression of the stomach and the pain of those...erm... growing hips, bending over to pick stuff up has become my new 30 day shred. Which as you can imagine gets really freaking old. So now there is a lovely lady who comes in and helps me pick up my own crap. Because I can't reach without getting into a semi-splits and huffing and puffing like the big bad wolf.
So that's that. Nearly 10 weeks to go, with a belly already the size of a watermelon. Also, I'm officially 11 pounds up from my pre-preg weight. Not so boasty about that number- I was hoping to stay around 15 pounds in ideal land- and that just doesn't look like it's going to happen. At least 3 of those pounds are pure baby, the rest I'm praying is mostly water, placenta and hip growth (wait, you mean that's not a thing?). I'm choosing to ignore the puff in my face, and the reappearance of a double chin when I laugh.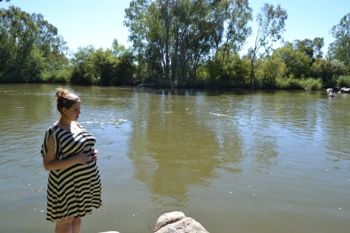 So don't remind me of that when I post my next picture and I'm resembling a beluga whale- because it's coming- and fast.