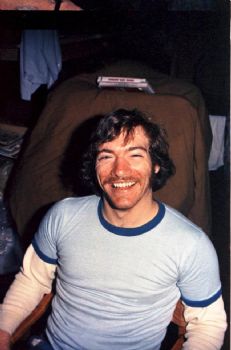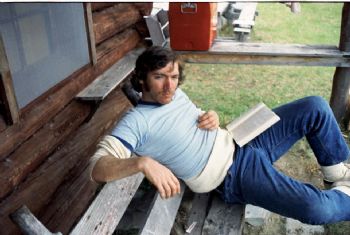 My dad in his early 20s.
As many of you know, my dad passed away suddenly on Monday, February 11th. I buried my dad a week ago today. This has been an overwhelmingly emotion time; I will address that in a later blog. I wanted to post a quick blog in memory of my dad. A single blog cannot, of course, encompass our relationship. But I feel the more that is written about him, the more his memory will live on.
I have had a hard time deciding what to write, so I wanted to share the speech I made at his funeral. I really wanted to speak at his funeral, although I had a hard time writing the speech and getting the words together. I knew I did not want to just get up there and wing it. I wanted to incorporate a reading from the book "The Prophet," but otherwise I was having difficulty deciding what to say. I did some writing to try to get the speech together, but the words would not come. It was not until I was sitting alone with my dad before the funeral that the speech came to me all at once. Here is the speech:
I have been struggling over the past few days in deciding what words to say today. Words just seem so insufficient to encompass such a brilliant and kind man whose life touched so many others. So, I turned to the best source of inspiration I could think of. I watched the movie that my dad and I watched so often, I can recite, and so could he. A movie that shaped the very woman I am today..."Spaceballs." There was rarely a time that my dad and I got together where we didn't quote "Spaceballs." The quote that stands out today is, "When will then be now?" from when Dark Helmet is looking in the desert. As much as I would like to go back to "then," a week ago when life was normal and I had plans to meet my dad for lunch tomorrow, I can't. We've passed "then."
I spoke to my dad for the last time last Sunday when we talked on the phone. Our last words to each other were "I love you." These were always the last words we said to each other. It didn't matter whether it was "I love you" during an embrace, a quick "Love ya" before hanging up the phone, or even "Love, dad" at the end of an e-mail, I knew how much he deeply meant it. I do feel a deep sense of loss with my dad dying, but as his daughter who is able to look back with knowing that nothing was left unsaid and knowing how proud he was of my brother and I, I feel joy in having had such a special relationship with my dad. He had no expectations of my brother and I other than that we were doing something that made us happy. He also encouraged us to be passionate about learning, as anyone who knew him knows that he always sought to learn something new.
Rather than focusing on the loss of my dad, I have been focusing on his life and the joy I had in my relationship with him. One of my favorite books is "The Prophet" by Kahlil Gibran, and there was a passage that spoke to me during this time, which I would like to share:
"On Joy and Sorrow":
Your joy is your sorrow unmasked.
And the selfsame well from which your laughter rises was oftentimes filled with your tears.
And how else can it be?
The deeper that sorrow carves into your being, the more joy you can contain.
Is not the cup that hold your wine the very cup that was burned in the potter's oven?
And is not the lute that soothes your spirit, the very wood that was hollowed with knives?
When you are joyous, look deep into your heart and you shall find it is only that which has given you sorrow that is giving you joy.
When you are sorrowful look again in your heart, and you shall see that in truth you are weeping for that which has been your delight.
Some of you say, "Joy is greater than sorrow," and others say, "Nay, sorrow is the greater."
But I say unto you, they are inseparable.
Together they come, and when one sits alone with you at your board, remember that the other is asleep upon your bed.
Verily you are suspended like scales between your sorrow and your joy.
Only when you are empty are you at standstill and balanced.
When the treasure-keeper lifts you to weigh his gold and his silver, needs must your joy or your sorrow rise or fall.
My dad's death was very sudden for us, but I take comfort that my dad got to live with joy until his last moment. While there is, of course, sorrow from his loss, he did not experience any sorrow at the end of his life. He was one who had taken the sorrow from his own life and created joy. My dad took joy in his family and told my brother and I how he was proud of us. I am overjoyed to look back on his life, his love, and his achievements and feel so deeply proud of him. He was surrounded by so many people who loved him, and now my family is surrounded by loving people. In the end, the best we can hope for is to be surrounded by joy and love.
The joy I feel when I think of my dad cuts through the sorrow, although the feelings are deeply intertwined. I will miss my dad more than words are able to express, but I am glad he knew how much he meant to me, even without getting to say "good-bye." I love you, Dad, so, so much.
I was happy to have made it all the way through the speech. I was so close to him that I felt a little like he spoke through me. He was always proud of me as long as I was doing my best, so that is what I did. The best way for me to memorialize my dad is to keep learning new things and exploring all of life's possibilities, like he did.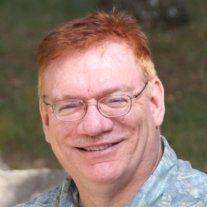 Recent picture of my dad.
Recent picture of my dad and stepmom.