Saturday, February 23, 2013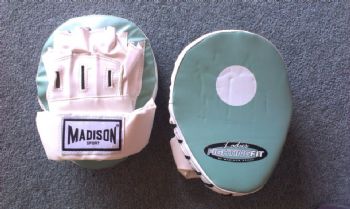 My very own focus mitts! I wanted pink ones to go along with my pink gloves but these were on sale. I got these PLUS a pair of gloves for $50, down from $70. Since I didn't need the gloves I put a photo on facebook and offered them for $20 to anyone looking to start boxing (I figured someone might want to try it without a huge investment). They were snapped up in minutes, so that means that my focus mitts only cost me $30 in the end! YAY bargains!
In other news, my trainer is trying to kill me, and my hands hurt. I did 2 pull ups and 2 almost-but-not-quite pull ups today, as well as the rest of my killer program. Hurts so good! Not a bad effort after only getting a few hours sleep! Must give a shout out to Chaley3, who is my friend on facebook and who allowed me a safe space to vent some feelings last night when I couldn't sleep. I love my network of sparkfriends! I really couldn't ask for better people to be in my life.