Saturday, February 23, 2013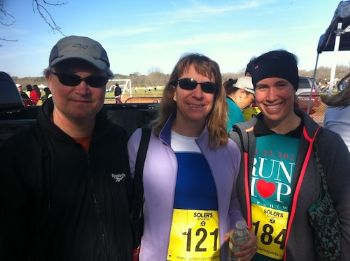 Just stopping by real quick to give a little race report from this morning's 5K. The run was the Race 4 Hope 5K, which benefitted the Rape Crisis Center here in town, and I ran the race with my dad and stepmom. (That's the three of us up there after the race.) It was my stepmom's first time ever running a full 5K so that's just awesome! She and my dad stuck together, and I went ahead and ran at my own pace, so I came in about 10 minutes before they did. My stats:
- I finished the 5K in 35:34 (11:28/mi, 5.23 mph), which tied my PR. I actually took most of the run very easy - I didn't want to push myself today - so I was surprised to end up at that time. I kinda wonder now what I would have gotten had I pushed! :D
- I finished 187th out of 457 participants - woohoo!
- I finished 109th out of 315 women - woohoo!
- I finished 16th (16th!!!) out of 44 women in my age group (30-34) - WOOHOO!
It was an awesome run. I didn't want to push myself too hard and burn out, so I took it easy until the last quarter mile or so. The only issue I had today was a stitch in my side from about the 1.5-mile mark to about the 2.5 mile mark. This has been happening a lot with my longer runs lately, and it's annoying me. It's always in the same place on my right side. :/ Ah well.
Jason got one picture of me right before I crossed the finish line. It looks terrible, but I'll post it anyway.