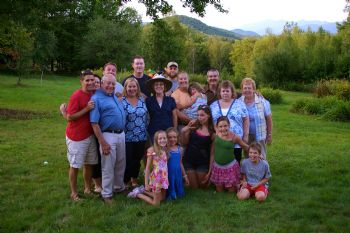 Monday was President's Day, a day off from work, and also the day before my mom's 79th birthday.
My husband and I took my parents to lunch in celebration. It was a gorgeous day and we had a wonderful time. My mom had suggested the restaurant at a local ski area, so we lingered for several hours, enjoying the backdrop of the slopes and skiers.
Tuesday was back to the work schedule but I called that evening to wish my mom a happy birthday and we all talked. They had had a quiet day.
Wednesday, on my way home from work, I got the call from my mom and sister that my father was incoherent at home. My sister, and her husband and family had been waiting at a local restaurant for my folks to arrive when she got a call from my mom that there was trouble......
Wednesday morning at 7am, my dad took his beloved dog out for a walk. He had a total knee replacement last January and while fully recovered, he tended to have balance problems. He walked the dog across the lawn and hit a patch of ice and went down at the edge of the driveway. He even mentioned the fall to my mom, but had brushed it off. They had a normal morning, then went shopping at Costco and Target that afternoon. When they got home, he took the dog out again then went up shower while my mom gave two piano lessons. When she went up 1 1/2 hours later to see if he was ready, he was laying down, completely incoherent. He had said to my mom before her lessons that he had a headache, and couldn't remember the last time he'd had a headache.
When they called me, I said to call an ambulance immediately and they did. He was transported to their local hospital, heard he'd taken a fall, and order a CAT scan immediately. I got home and received word that it was very serious and that we'd better come promptly. As we were leaving we got another call that he was being transported to Lahey Clinic, due to their superior neurology department.
By the time we arrived at Lahey, they were performing a second CAT scan and we joined my mom and the sisters who had arrived in the Surgical ICU. It wasn't long before the surgical resident came out to tell us that the situation was very grave and that the surgeon was reviewing the scan and would be out to see us.
It turns out that when my father fell, he must have hit his head. He didn't hit it hard enough to cause a fracture, heck there wasn't even a bump. But it was enough trauma to cause one of the tiny blood vessels in his skull to tear, and it started slowly bleeding into his brain. My father was a Cumadin patient. With the powerful blood thinner in his system, he never stood a chance. The blood vessel insidiously bled all day, while my dad lived his day, shopped with my mom and prepared to go out for another birthday celebration.
The surgeon showed us the second CAT scan, which showed that it had gotten even worse between 6:30pm and 8:30pm. The was a massive blood pool on his left side and his poor, magnificent brain had been slowly and inexorably compressed and pushed into the right hemisphere. He had suffered irreversable brain damage already, and even if he made it through the surgery, he would need extraordinary measures/life support to sustain him. He did not want that for himself and had expressed his wishes many times. My mother had to, first, make the decision whether to operate. She didn't have more than 30 minutes, and that was for the prognosis we'd already heard. All my siblings except my sister in California were there. Normally, it's two at a time into the ICU but they allowed us to all go in after the CAT scan consult. He was in a coma, had a breathing tube and was receiving medicines to keep his blood pressure down, etc. My mom made her second decision at 3:30am, to remove the interventional measures and let nature take it's course, while they kept him pain-free. The surgeon said we could have 2 minutes, 2 hours or 24-48 hours left with him.
My father passed away shortly before 3pm the next day. I know that due to the massive injury, he never regained any consciousness. A single tear ran down his cheek several minutes before he took his last breath on this earth.
I love you, Dad.