Twenty Years

Friday, February 22, 2013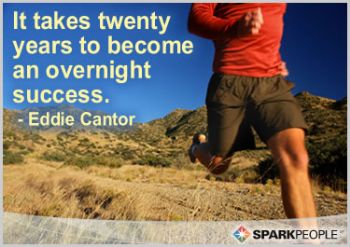 Twenty years to become an overnight success ... WOW!!! When I saw this, I started thinking back. I started my weight loss journey at 300 pounds twelve years ago. There are days that I cannot remember weighing 300 pounds. Those days have escaped my remembrance. It's not something that I need to think about most days anyway. But when I do press my memory, I can remember shortness of breath, embarrassment, tight clothes, struggling to turn over in bed or to get out of a chair, and those horrid stares when I was out in public.
But twelve years later, I'm well on my way to being a healthy, happy woman. I'm figuring out how to better deal with the stress that life has to offer without eating my way through it. I'm managing the hypothyroidism, adrenal insufficiency, osteopenia, and migraines that my body is diagnosed with. I'm learning how to manage maintenance ... not a pro at it yet, but I only gain a small percentage of the original back when I do re-gain, so I'm making progress!
Twenty years to become an overnight success ... I have twelve of those years under my belt! I'm delighted with the progress I've made! I like my degree of success thus far ... and looking forward to the journey that lies ahead!