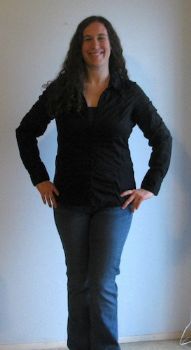 WOOHOO!! I have done it! After 3.25 years of trying, I have lost 100 lbs!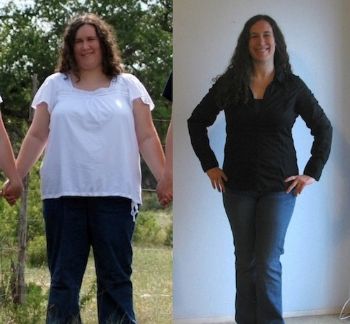 155 lbs is a very big milestone for me, and not just because it equals 100 lbs lost. 155 lbs and I - we have a history. That history goes way back to my first pregnancy in 2000.
Pre-pregnancy, I weighed 135 lbs. The highest I'd ever weighed back then was 145 lbs, and it had mortified me. Then, after my first pregnancy, I suddenly weighed 155 lbs. While that weight is technically only 1 lb over a healthy BMI, I was HORRIFIED. I didn't even know about BMI back then. All I knew was that I was VASTLY overweight in my own estimation. I worked my butt off to get back into the low 130s, and then I got pregnant a second time, and ended up at 155 lbs again after my second delivery in July 2002.
I tried to lose weight, but couldn't. I stayed at 155 lbs until April of 2003, when suddenly my stomach began to hurt like the devil, and I had a hard time eating. Eventually I ended up in the hospital, though they never found out what was wrong with me. In those three weeks, I gained 20 lbs, while eating less than normal, bringing me to 175 lbs. (Culprit of all this: my teeth. See my main page for details.) A month after that, I got pregnant, and until last May, I never saw below 175 lbs again.
It's been 10 years since I've seen 155 lbs. In that decade, I've gone from hating that number to desiring it. The eyes of someone who spent most of their adult life at 125 lbs and the eyes of someone who topped out at 255 lbs are very, very different. For years now, 155 lbs has been my goal. I didn't care that 154 lbs was the top of my healthy weight range. I just wanted to see 155 lbs on the scale again.
And now I have. Ironically, I now want to see the 130s again on the scale - something I couldn't have even DREAMED about a couple years ago. But hitting this first goal is MAJOR to me. I spent years believing it would never, COULD never happen, and now, here I am.
I have lost 100 lbs. I have done the seemingly impossible.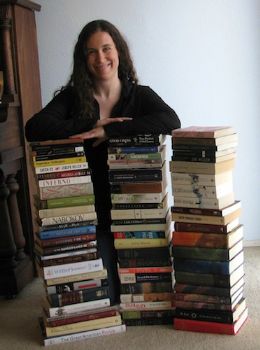 This is 100 lbs of books. I have lost ALL THIS from my body! I have conquered! Huzzah!
Now, it is time to slip quietly into the "transition to maintenance" period. To focus not just on the last 18 lbs I want to lose, but on learning to keep this weight off my body forever.
ETA: A couple more pics, to celebrate this great milestone: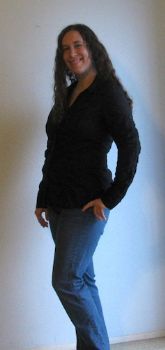 Side view - I look thin from the side!!!!!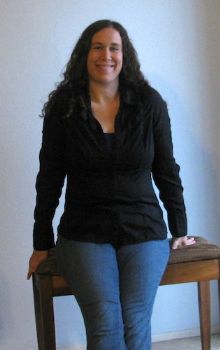 I never thought I'd look thin sitting down again. :)