Thursday, February 21, 2013
Hey Sparkpeeps!
I'm really starting to wrap my head around how someone can be addicted to food. Specifically, I think I may be addicted to sugar because I loves me some baked goods (cookies, brownies, cake, donuts, etc.). I know they aren't the best for me but damned if they don't taste good and make me happy. I have NO problems doing punishing-types of workouts. Hell, the hubs and I are on week 7 of TapOutXT right now, but that doesn't do me any good if I can't lay off the sugar. So, I'm trying to focus my efforts on cleaning up that part of my act. I can't cut sweets out of my life period, but I want to start baking my clean versions of goods so I won't feel deprived. If I can conquer this beast, I will be well on my way.
On another topic, my little Sophia is 9 months old now and as cute as ever, below are some pics from having brunch with my family this past Sunday. Enjoy!
Sophia and my Grandma Thomasine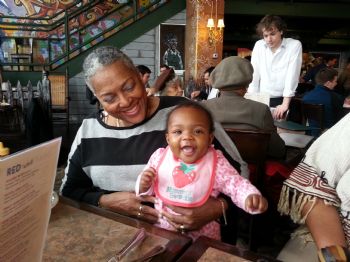 Sophia, my brother Darryl and his fiancÚ Tara
Sophia and my Grandma Francine