Thursday, February 21, 2013
Clean eating has been going VERY well. I started on Mon the 11th and have lost 3 lbs since. I am down to 136 from 215! 1 lb away from the 80 lb loss mark!! My new favorite breakfast are these chocolate banana peanut butter protein pancakes. However, I started putting the batter in a mini muffin tin and they were AMAZING! It makes 12 mini muffins. It is quite satisfying to sit with an entire plate of mini muffins and to eat them all for breakfast lol. They taste like little cupcakes.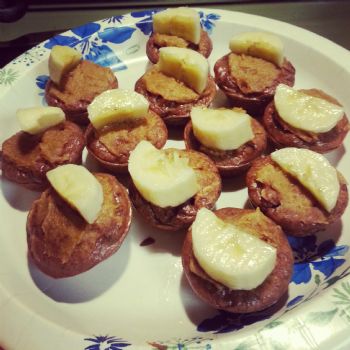 1/3 c old fashion oats
2 tbsp plain greek non-fat yogurt
1 tsp baking powder
1 tsp premium vanilla
1 scoop chocolate protein powder
1/2 banana chopped up
2 egg whites (6 tbsp liquid egg whites)
Bake in mini muffin tin for about 12 minutes.
Topping
1 tbsp PB2
.5 tbsp almond butter
Mix with enough water to form peanut butter consistency
Top with the other half of the chopped banana
For 12 muffins it is 492 calories, 9.6 g fat, 57 g carbs, 48 g protein.
I am officially out of my apartment by next Thurs. I am getting close, but it'll be nice when I am done. I still have classes on Tuesdays and Wednesdays. I am still making dinner every night. I worked out once this weekend, but it is still less than before. I think once the apartment is finished I'll be able to go a little more, but either way my food is in order.
Here are some progress pics