Tears
Thursday, February 21, 2013
Yesterday, I ended the day in tears. It had been one of the most stressful days I've endured in a very long time. I posted on one of my teams that the thought came to simply sit with a bowl of popcorn and indulge. Now, there is nothing wrong with popcorn itself. It was the emotional eating that would have been my problem.
I thought I was going to come home and relax, but stress followed me home. That was my undoing. That was when the thought to eat to resolve my issues popped into my head. But first, I had to resolve the stress that had come home with me. That was the diversion that I needed. By the time I was finished, I no longer wanted to eat emotionally. I was in control again. I had it together! That was when the tears came! Success!!! I'm getting the hang of this ... sometimes just by chance, but I'm getting there!
This morning, SparkCoach blessed me with this image at the end of my session ...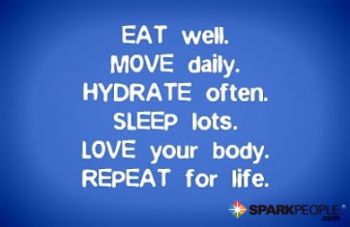 Repeat for life ... that's the plan!