Thursday, February 21, 2013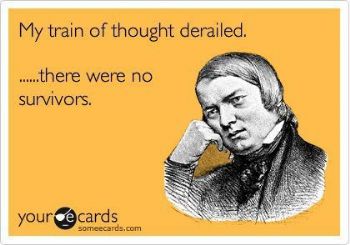 I've apparently been flying my brain at half mast for the past couple days.
Yesterday, I went to the store and bought what I needed. Included in my purchases were two containers of ricotta cheese I need for a recipe I'm making this weekend. Came home, unloaded groceries, put away all cold stuff immediately. Left a couple of bags on the counter of non-cold stuff and the distractions of the day took me in a different direction.
Woke up this morning and for some reason the thought struck me that I didn't remember putting the ricotta cheese away yesterday. Autopilot grocery unpacking happens these days, where I have absolutely no recollection of putting things away that I did indeed put away, so I checked the fridge. Nope. Maybe I left them at the store. Unlikely. Then the "aha moment". They were still in the bottom of one of the bags I'd failed to unpack and left out on the counter all night. This is the first time I've ever done this and I am ticked, not just because of the dunderhead move, but because ricotta cheese isn't the cheapest item I could have left out to spoil. Tossed the two containers, considered replacing with cottage cheese but then thought "I will have then spent a relatively large amount of money on what amounted to being two containers of cheap cottage cheese AND it could ruin the whole dish" so I nixed that idea.
Heading home from dropping off my youngest at zero hour this morning, I stopped and bought two more containers of ricotta. I also bought a couple other things. Driving home I realized I only had one bag sitting next to me in the passenger seat. Guess what? I left the ricotta at the store. AHHHH! Whoever stole my brain, can I please have it back now?!!