Thursday, February 21, 2013
So, Tuesday morning I was very rudely awoken by a pain in my calf. Before you stop reading and click away from my blog, please hear me out, it's not a complaining blog about my health in general. I had a bloody leg and heard my cats skittering out of the room. Upon close inspection I noticed four small puncture wounds... ONE OF MY CATS BIT ME! I was asleep so I'm not sure which but they're NOT usually ill tempered. My best guess is that I spooked them in my sleep or rolled onto one and he bit me to tell me to get off of him! (I say him because it was my two boys sleeping with us) I went to the Dr. and got a tetanus booster and a round of Augmentin as a prophylactic antibiotic to prevent bad infection.
I'm updating, though, to say that I still ate according to plan and didn't eat my feelings! (I was really sad, confused, shocked all day because of this; I'm somewhat of an emotional person.) So all in all I'm pretty proud of myself.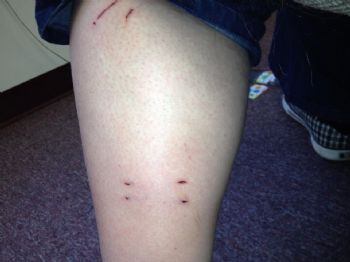 OUCH!