Wednesday, February 20, 2013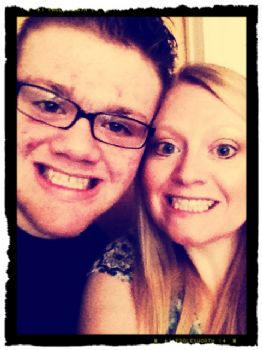 I think I am down about 7 more pounds from my last entry.. I think I was about 188 at my last entry. I am now 181. I haven't written in awhile, but I have been doing good!
My meds are still working out well, I am on half tablet of phentermine in the morning, one 50mg tablet of topamax in the morning and then one 50mg tablet of topamax at bedtime and then I mainly eat a low carb diet. I do have to admit that the last two weeks I have been eating fruit.. and honestly.. the last few weeks I havent had much energy. Could be coincidental, but man.. I was going strong on my treadmill for awhile and eating everything low carb to a T.. then I get sick of meat and cheese and started to eat natural fruit sometimes in the morning first thing.. then low carb meat/cheese type stuff later in the day.. and I just feel so tired and not with it.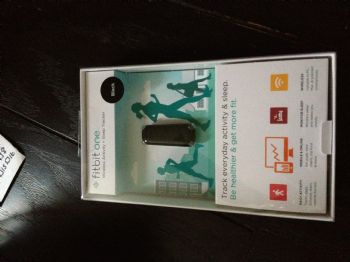 Last week I got on fitbit.com and ordered the new fitbit one. It came yesterday!!! I charged and synced it to my account lastnight.. taking off my fitbit ultra from my account. I had a droid razr maxx for a cellphone, but switched to a iphone 4s so that I could sync my fitbit one to my cellphone now. Yes, that's how much I like fitbits!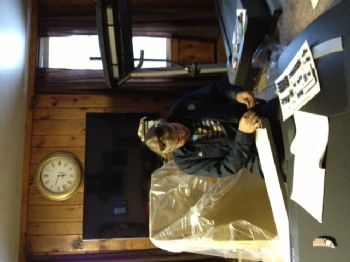 (the boyfriend assembling it as I type!!)
I also got my new treadmill today! it's a Gold's Gym Crosswalk 570 from Walmart with Crosswalk bars, takes ifit cards, has an ipod dock with speakers.. pretty neat.. nice step up from my pro form crosswalk 375.. that's like 7 years old.. LOL. I know there are much nicer treadmills out there, but im poor and hey, it's new to me!! Im so excited!!! My last treadmill is pictured in the background.. you cant really see it.. it helped me take off about 65 ish pounds.. roughly half of my desired weight loss.. hoping the new treadmill will help me reach the rest of my goal. Hopefully all of this new stuff is what I need to realy get my butt moving and motivated.. defintitely no excuses now!