Wednesday, February 20, 2013
Last Friday was the opening night of my sister's art exhibition (remember, the one I bought the new dress for!). I'm so proud of her, she is such an inspiration. She gives me courage to go after my own dreams as bravely as she's always gone after hers.
I had a great time and felt really pretty in my new dress. I got to meet my cousin for the first time since I lost the weight and she was amazed at the progress I have made. It's funny how I always used to feel so self-conscious around her when we were a lot younger. She always seemed to me to be so beautiful and thin, but now that I stood next to her I felt just as beautiful as she was. I'm so happy to be in such a wonderful place in my life right now - it used to be so hard to accept myself as I am!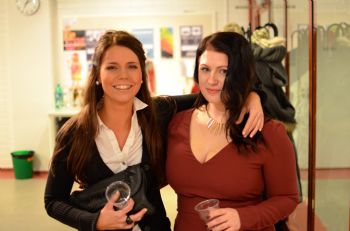 My cousin Laura and I.
Laura, my beautiful sister Amanda and I.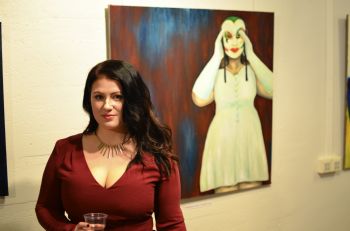 Me x 2 ! That's actually also me in the painting behind me. My sister took a picture of me a few years ago for an art project where I was hiding my face with a Venetian mask, and she had painted a picture of it. I was a little surprised to see it there among all the other paintings!
It was a wonderful evening and I couldn't be more proud of my talented sister!