Wednesday, February 20, 2013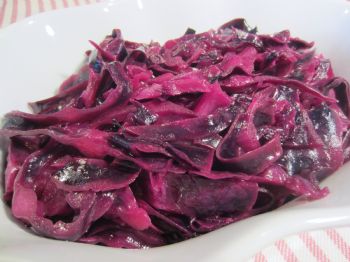 Sicilians often prepare vegetables with a sauce called "agrodolce." In Italian, "agro" means sour and "dolce" means sweet, so it's a basic sweet and sour sauce. Traditionally, it's made with vinegar and sugar but, in an effort to lighten it up, I substitute stevia for the sugar. Sicilians prepare many vegetables this way (onions, carrots, eggplant, etc) and it is believed that this sauce was introduced to the Sicilians by the Arabs. It's an incredible way to prepare red cabbage (which is an incredible side dish for roasted meats - I especially love it with roast chicken, pork tenderloin and lamb).
I'm sure you've heard all about the cancer-fighting properties of cruciferous vegetables, like broccoli, cauliflower and cabbage. Because of its deep purple color, red cabbage has the added benefit of being loaded with antioxidants and phytonutrients.
( Read the rest of this post at:
www.sicilean.com/2013/02
/sweet-and-sour-red-cabbag
e-nutritional-powerhouse.html