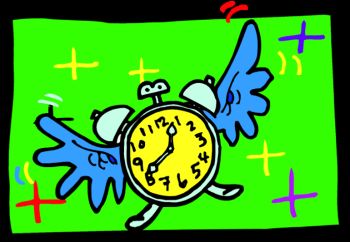 "You may delay, but time will not." - Benjamin Franklin
---
Tick, tock. Tick, tock.
Over the past couple of months, I've let my eating plan fall by the wayside -- since Christmas, if truth be told. I've continued to be careful about some things but have been careless about others. I'm happy to report my blood glucose levels, though still on the high normal side, have improved. However, at my doctor's appointment this morning, my blood pressure was elevated, even though I had lost 1 1/2 lbs since my last visit. That loss, incidentally, was just part of what I'd gained since Christmas gone. I've had carpal tunnel surgery on both hands, three weeks apart, and for a few weeks, that required a lot of sitting around until casts came off and stitches came out. That didn't help.
Yesterday, I discovered The DASH Diet. This common sense plan focuses on whole grains, fruits & veggies, low-fat dairy and protein as well as low sodium food choices. Originally developed to help treat hypertension, it is certainly a very doable, very healthy plan-for-life. I've had to alter the serving amounts to make it a weight loss program as well, but I think I've discovered a plan that's easy to do, affordable, and one that makes sense. My doctor gave it a resounding thumbs up.
I've joined the DASH team here on Spark and look forward to sharing my experiences with them and learning from those who've been on the program for a while.
I still sigh when I think that I'm in almost exactly the same place I was this time last year. Tick, tock. Time's a'wastin'! It'll be summer again before we know it and I do not want to be slaying the same dragons in June that I'm fighting with now.
I need to lose at least 60 pounds. Still. I'm so tired of starting over, but if this DASH program is as easy to follow as it appears it would be, I'm glad I started searching again. One of my favourite mantras came from Spark: IF YOU'RE TIRED OF STARTING OVER, STOP GIVING UP!
I'll never give up. I'm here for the long haul. I dug my pedometer out this morning.
This long haul is going to be my "final DASH" to a healthier, happier me!