Spring is popping up, after a wet and monotonous winter -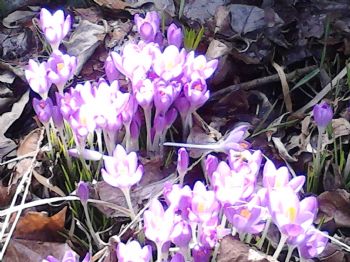 Looks like it's going to rain for a while now, though.
Today, I meet the van pool at 6:20 am, work all day, take a bus downtown for an evening class, and get home about 9:30 pm. So I have breakfast, lunch, snack and dinner all with me, because buying food on the go doesn't usually work out that well, especially when I don't have a car. I can heat up lunch at the office but have to eat dinner on the bus or in class. Here's what I'm eating today:
Breakfast - super smoothie (frozen fruit, spinach, oatmeal, flax, soymilk)
Lunch - salad (romaine and bean sprouts), lentil stew
Dinner - sandwich with guacamole and alfalfa sprouts, carrot sticks, almonds
Snack (morning and/or afternoon) - Lara bar, 2 mandarin oranges
This much prepping is a stretch for me, so I give myself credit! It does reduce the stress level of a long day to know my food is taken care of and is high-quality.