Good Morning!
Today was Cathe's Lower Body Blast, standing only premix. I love this workout.
Here's how it went!
Warm up
Standing lower Body
Walking Lunges - 2X12
Leg Presses - 12
Barbell Squats - 50
Front Lung Pick Ups - 7.5
Cardio Burst: Split Jump - No equipment
Warrior slide lunges - No Equipment
Platform Barbell deadlifts Barbell Plie Squats - 50
Disc Side Slide Lunges -
Cardio Burst Ice Breakers -
Single Leg Deadlifts - 17.5
Elevated Lunges - No weight
Hover Squats - 20
Sit n slides with Disc
Cardio burst Low Box Jumpbs
Wide Stance Deadlifts with Barbell - 50
Static Lunges with Barbell - 40
Stretch
Ahhhh...that was nice!
Did I tell you I love this workout!
So, yesterday, I had to get food for the ladies and came across this beautiful sweater for Zoe. I know I wasn't going to buy anything I didn't need till lent was over...but I couldn't resist. It's so darn cute. You should have seen her when I showed it to her. She knew it was hers and she was just so excited.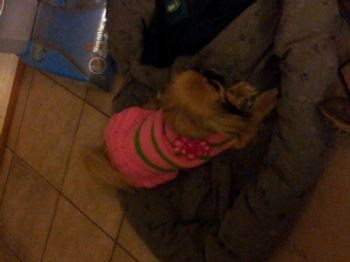 Tim said that when he came home, she came out to show him her sweater. She said it was like she was modeling. How cute.
Well, I have to work with my boss today. My partner in crime is off today. Should be an interesting day. Hope he survives....lol. In other words, it should be a kind of fun day.
Hope everyone has a great day and wonderful workouts!