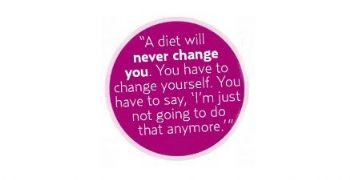 I'm highlighting parts of an exceptionally helpful motivational SP article:
Stop Dieting and Start Living!
www.sparkpeople.com/reso
urce/motivation_articles.a
sp?id=620
A diet is all about numbers. A lifestyle change is all about you.
The diet mentality assumes that reaching a certain weight is the key to finding happiness and solving other problems. The lifestyle approach assumes that being overweight is usually the result of other problems, not the cause.
Going on a diet involves an external and temporary change in eating technique. The results of a diet are external; if you're lucky, you may change on the outside—but not on the inside.
Making a lifestyle change involves an internal and permanent change in your relationship with food, eating, and physical activity. You recognize that the primary problem isn't what you eat, or even how much you eat, but how and why you eat.
The key to both permanent weight loss and feeling satisfied and happy with yourself and your life is to take personal responsibility for what you can control, and let go of everything else.
And when you rely too much on external (diet) tools, techniques, and rules to determine your behavior, you are turning over your personal responsibility to the tools and techniques. If you find yourself frequently losing motivation or feeling powerless to control your own behavior, it's probably because you're counting on the tools to do your part of the work for you. You're the only one who can decide what's right for you; only you can change your attitude and perspective to match your personal reality.
I hope you go read the whole article at the source:
Stop Dieting and Start Living!
www.sparkpeople.com/reso
urce/motivation_articles.a
sp?id=620