Tuesday, February 19, 2013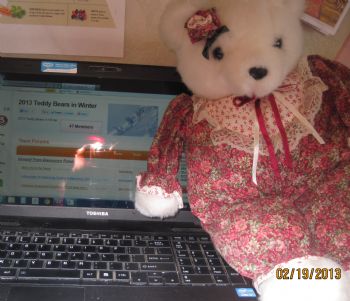 Those of you who know me, know i need my visual or touchable icons for goals..Well meet my Miss Polar Teddy bear...If you look close you will see she is wearing a poinsettia print jumper for my love for Christmas all year long... She has her station near the elliptical and for the photo shoot she came over and read the computer with me too.
I am geared up and ready to get really serious about weight loss come Saturday ...working and practicing already. New experience and new learning and going to see new #s on those new scales that are first reward just for setting 5 CLEAR concise, measurable goals And getting the medical supervision to go with them!
1. Loose 5% of my weight in 8 weeks =12#
2. Progress on seated elliptical one minute every three days till I get to 15 minutes then begin increasing tension on it. plan one day OFF per week for appointments I know I will be away from home or not able to do elliptical
3. 900-1100 calorie diet gluten free and anti-inflammatory [tracker will not record under 1000 but I can still count it that way...I had fought this battle a long time and know that to lose, I have to go to 1000 or less even when I could walk more]
4. 10+ waters 9+ freggies Evaluate and record Fibromyalgia pain/fatigue levels
5. Pedometer 3000-5000 steps + Elliptical steps