Lenten Diet Devotions- 7
Tuesday, February 19, 2013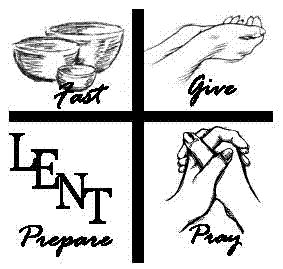 Day 7
Scripture: Mark 11:24 Therefore I tell you, whatever you ask for in prayer, believe that you have received it, and it will be yours.
Application: Why is it we can ask in prayer something's, and others, like weight-loss we think is trivial, and we should not bother the Master with it. If we could only conceive how involved He is in our lives, and how much more He is willing to be, we could arise each morning and ask Him the needed strength and grace in this area. James says, "You have not because you ask not."
Have you even thought to ask God to help you in this area? You may have caused yourself to get into this realm all by yourself, but as Jonah, in the whale's mouth wasn't delivered until he submitted to God's will confessing his sin, it isn't going to happen without giving God the glory. Turn it over to Him fully, and be prepared as you lose weight to tell others of the marvelous works that God has now wrought in your life.
Prayer: Father God, seems I always turn to You when I am in trouble, but here I am again asking for Your divine help. I cannot control my appetite and my lack of self-control. I turn this area of defeat over to You, asking for Your guidance and stamina to come out of this dark valley which has held me captive so long. Set me free by the truth of Your Word, and deliver me according to Your promises, and I shall be free indeed. Amen
Today's action and commitment: Buddy up with someone that has the very same area of defeat that you have in your eating habits. Then support each other, and encourage each other, and pray daily for one another. Watch God set captives free.