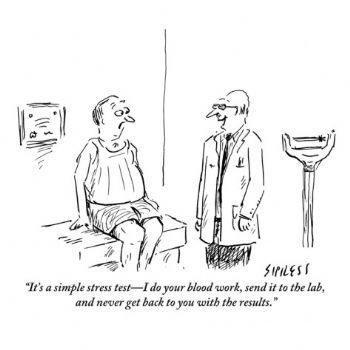 "It's a simple stress test - I do your blood work, send it to the lab, and never get back to you with the results."
:~*~:. .:~*~:. .:~*~:. .:~*~:. .:~*~:. .:~*~:.:~*~:. .:~*~:. .:~*~:.:~*~:. .:~*~:.:~*~: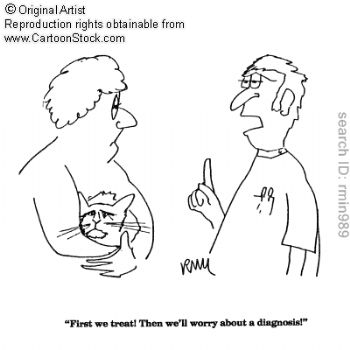 "First we treat! Then we'll worry about a diagnosis."
:~*~:. .:~*~:. .:~*~:. .:~*~:. .:~*~:. .:~*~:.:~*~:. .:~*~:. .:~*~:.:~*~:. .:~*~:.:~*~:
I have been putting off reading 2 things: one was my lab test results, and the other was a long write-up on a young person of a family I know who committed suicide.
I'm very concerned about my lab results. Apparently they indicate a number of things: anemia, heart failure, liver disease, kidney disease (I knew I had these first 4, but hoping the tests aren't indicating they're getting worse), inflammation, non-absorption of nutrients possibly from Celiac disease, or various cancers. I have been told, "Come back in 2-3 months for retesting". I personally think it is inflammation from my high sugar intake and non-absorption due to my 'allergy' to gluten impacting my ability to absorb nutrients. I have had problems with absorption for many years now, but apparently it's gotton worse - maybe because at least a year ago I went back to eating breads etc… So, I really need to get off sugar and gluten, and see if in 3 months I am doing better. I in no-way think I have cancer!
Another weird thing is that though my TSH is 0.04 (technically hyperactive), my FT4 is only .60 (with a normal range of 0.59-1.61). And, this is so even though I took my second dose at 6:30 pm the night before, then got my fasting labs done at 12:45 pm the next day (so about 18 1/2 hours from Armour Thyroid to labs). My doctor wants to reduce my Armour Thryoid but then I will definitely be *HYPOthyroid* according to my FT4. From what I've read with Armour, the T3 in it always suppresses TSH, and you don't go by that, but you do need to get your FT4 and FT3's in the middle of the range. If I follow her directions I won't even be on the range table at all, but will be totally below range with FT4 and FT3. If I don't follow her orders I will be classed (once again) a non-compliant patient and will not get medical care. NO WIN SITUATION.
I do not feel at all hyper; my heart rate isn't fast, my temp isn't up, I'm not sensitive to heat - in fact the opposite, I'm sensitive to cold.
The NP also has given me 3 months to get my cholesterol levels to normal levels - OR ELSE she insists I take Lipitor. My response was, "Statins almost killed me years ago, so I would rather take my chances with high cholesterol than statins again. All statin drugs cause Rhabdomyolysis in me." Her response again was, "You have 3 months to bring them down or you have to go on them."
NO WAY AM I GOING TO TAKE THEM!
:~*~:. .:~*~:. .:~*~:. .:~*~:. .:~*~:. .:~*~:.:~*~:. .:~*~:. .:~*~:.:~*~:. .:~*~:.:~*~:
A young man of 27 in our area committed suicide recently. It is sad that one so young gave up on life. I do understand that his parents went through a long hard road with his mental illness, but their coldness and *briefness of grief* over his death (by their own words) shocks and disheartens me. I know they were deeply disappointed in their son, but still… I just don't get it when anyone - including psychiatrists and psychologists feel it is better for the mentally ill to die than to continue to suffer. Even though he didn't trust mental health professionals due to his long experience with them and his "failure to find one competent enough to treat him", the young man was so desperate that reached out to a previous psychiatrist he'd had, who very well should have known the shape he was in, and should have seen him right away. But, instead, he was given an appointment weeks away. Needless to say he only lasted 2 more days.
I know a lot of the type of emotional pain this man had been in. A few weeks ago I reached out in the depths of my despair and asked to speak to my psychiatrist on the phone. I was told, "If you need help go to the emergency room, but we do not speak to patients between their appointments."
Even though I have never met this young man, having only known his parents, I really related to this young man due to what his parents have described what he was like and what he felt. I have known and felt his level of pain often in my life.
Ever since the end of October when I started with a therapist who was an absolute disaster to me; utterly destructive and emotionally abusive; I have suffered severe emotional pain and have spent months recuperating from the suicidal feelings I have had from what I experienced from that therapist. And, the abuse from the mental health system has continued because in response to my writing a cancellation letter to that therapist (detailing all he did to me, and sending a copy of the letter to my psychiatrist) I am being 'terminated'. Even though my psychiatrist agreed that that therapist was "a loose cannon".
I guess it isn't tolerated to take a strong stand against a therapist. They all stand together just like doctors or police protecting one another. If you take a psychiatrist or therapist to court they are even given directions on how to discount a patient; undermine them so that they can "win at all costs", no matter what further harm it does to the patient. Yep, I found this online.
I could have went after my last therapists license but all I did was write him a letter. So, now I am being "blackballed" from care, and under threat of losing my disability if I come up for review and have no doctor. This is a small area, so I don't have a lot of options of where to go.
These so-called mental health professionals want ONLY a submissive, compliant patient; not one that will confront the abuses in the mental health field including psychiatrists and psychologists having sex with patients. But, *IF* these cases go to court the psychiatrist or psychologist has his license pulled for ONLY 6 months and has, at most, a misdemeanor charge. Those light penalties show, in my mind, a real lack of respect for the long-term harm they do to patients.
EXAMPLE: A case in our area that went to court a few years ago; the woman's name was smeared in the press and the court papers are still available online. The doctors license was suspended 6 months. The patients life is still devastated.
Even though my psychiatrist agreed with me, "Not to meet my psychologist at a private location as he requested, because as she says, "Sex between patient and counselor is a disaster to the patient" (which is exactly what I was telling her, and why I refused to meet him somewhere else where I wouldn't have the safety of others around), she has now decided to totally cut me loose from the mental health system, and make me pay a high price for standing up to the system. Cause, "how dare a patient stand against ONE OF THEM!" Over a month ago she told me, "Nobody will work with you now."
It's really disheartening. They will work with my psychopathic husband. And, my psychiatrist admits she has many psychopaths on her roster… but they play the system and behave; ie don't rock the boat, don't speak out. I have spoken about the abuses I have seen in the mental health system: and there are many. They dehumanize patients, they can do anything to a patient and the patient can do nothing about it, if they stand up for themselves they are OUT; these people play God with peoples lives. And, that's what they are doing to me. I spoke out strongly against this ONE only, and so January 16th she told me she will be quitting after March, and nobody will take me on as a patient after this.
Plainly she / or none of them, could care less about what will happen to my life if I lose my disability. Plainly they don't care how much they break my heart with their attitude and treatment of me; their total disregard for my life. My disability is based on my severe depressions and my severe sleep disorder caused from PTSD - caused from severe abuse, much of it from my psychopathic husband. I still have those issues, but when I come up for a review but don't have a doctor to verify it, I will likely lose my disability. Then what am I to live on? I can't work.
I just find this to be more heartlessness and cruelness by the mental health system. I consider this treatment by so-called mental health professionals unconscionable. I don't see any real indication that they really care about patients. Even those in the mental health field seem to have a very strong distain for their patients. You will see it in how they treat patients, how they speak about patients, and sometimes by how they even speak TO them. If I spoke about all that I have seen from mental health professionals, not just to me but to various others, you would understand.
If you want a better insight about these issues read a book called, "Against Therapy, by Jeffrey Moussaieff Masson". It gives a really shocking, but accurate account of what goes on from mental health professionals to patients.
For now I'm taking it "One Day At A Time". I see my psychiatrist soon, and will know more about what is really going to happen. I pretty much know... but, the "wait & see" has been stressful. Most of the time I try to put it out of my mind, but the issues are usually not far from my mind. It has made it doubly hard to pull out of the deep, deep depression I was in. To do so I have been forcing myself to do what I need to do to move forward. I (am) moving forward.