Well, here it is Monday again, my weigh-in day.
And as usual, I was fretting yesterday that I had not lost anything this past week.
Saturday I cooked a 4 course dinner for 6 and I decided to step it up a notch. For me, that means doing a lot more from scratch. Consequently, it takes more time, more effort, and......more time to lick the bowl, taste the batter, sample the baked goods, etc. AND I DID!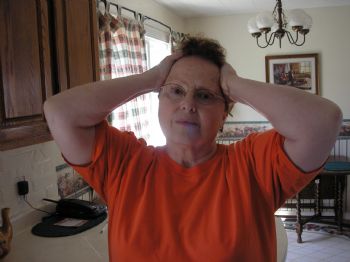 This is an old photo from 4 years ago, but it's how I felt about myself.
I almost resisted, but I thought....aw, what the heck Lyn, you've been doing real good since the beginning of the year...no cheating, no slip ups. And as I thought that, I popped a spoonful of PB cookie dough into my mouth. Then another, and darn it was good...then another. Also had to taste the finished product and I think I had 8, not sure but close.
I can also add at dinner on Sat. and again on Sunday afternoon, about 4 cups total of french vanilla ice cream, with lots and lots of chocolate sauce.
So before I went to bed I did 20 min on my treadmill at 3-3.5 ...hoping for at least no gain!

I lost one pound!
Boy, am I one surprised Mama today.
And a happy one.
I'm refocused...knowing that SP works....and like INDYGIRL said, "there is no wagon to fall off".
Let's do it everyone, that's why we are all here on SP!