Well, in my case-- my mountain was a 150 foot hill! I didn't think my bad knees would allow me to! I have discovered a lot here lately about how strong I have gotten with the hundreds of miles I have walked over the past 2 1/2 years! It was a goal of mine to climb that hill one day! We discovered it 2 months ago and at that time I had just sprained my leg in a fall, so couldn't even try it! I am so happy I could this time!! Me-who not 4 years ago, when I discovered I had Osteoarthritis, was limping through the grocery store-hardly able to push a grocery cart experiencing so much pain. My Orthopedic specialist/surgeon told me I could avoid surgery for awhile if I lost the weight and started walking-get those knees stronger! So over a year with cortisone shots in both knees – I slowly started my journey and once I found SP-it helped me even more to keep going-to never give up!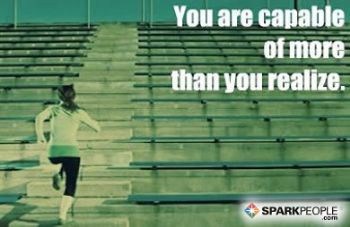 The hill in the video: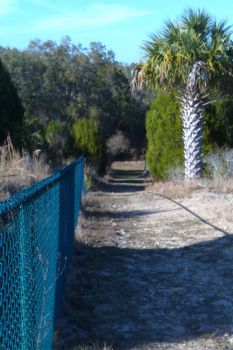 The Vista at the top of the hill, you can see the other trails in the distance below: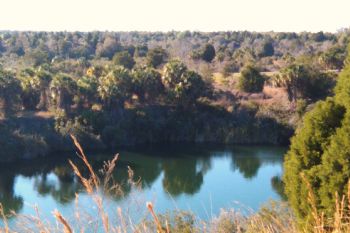 Path on top of the hill: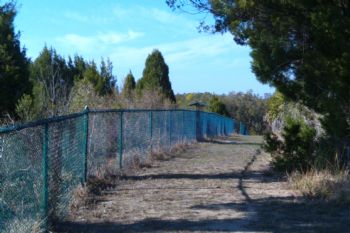 This is the Withlacoochee Bay trail in Inglis, (FL) is about 8 miles long from end to end (one end starts at the Gulf of Mexico-the other ends at cliffs overlooking the canal) and has 3 hills in it and several offshoots of birding trails into the bush: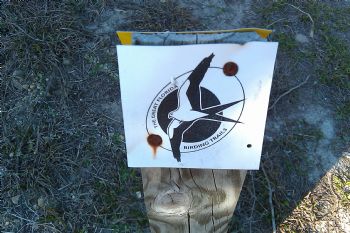 I am walking up one of those hills: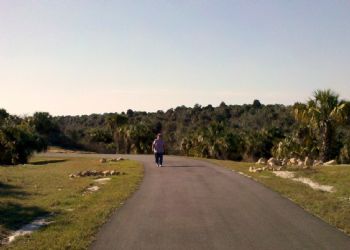 We hiked 3 ½ miles that day, including the hill and did it in just under 2 hours! Was I wore out! But, it was the most exhilarating day for me! DH kept saying to me "I am so proud of you!"
He kept walking and I followed-DH up ahead of me: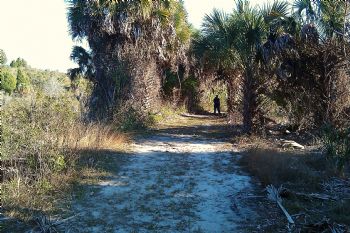 We kept going and going: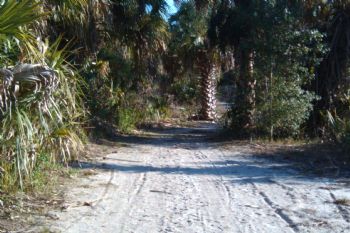 On this part of birding trail we are looking up at the hill from down below: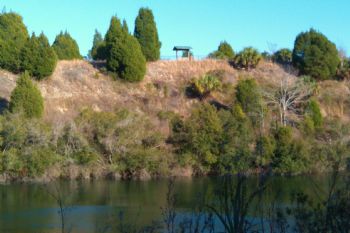 Other views from the trail: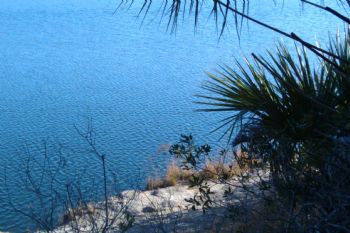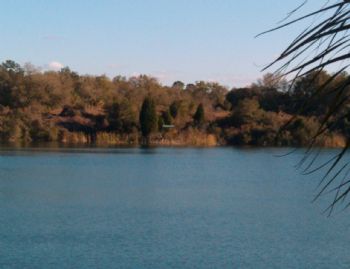 Finally, I said I think my legs have had it. We went home and had some of DH's wonderful soup he had made the night before-we are phasing out the eating out at restaurant's more and more. As of this week I just realized I am half way to my goal weight-only 66 more to go! Wow-now it doesn't seem so daunting or far away now!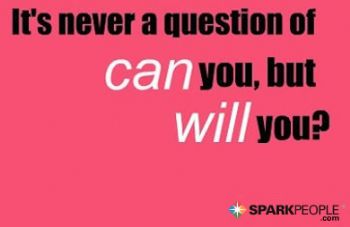 We found out there are miles of trails on the other side of the lake too- our next trip up!
The skies were so pretty that day: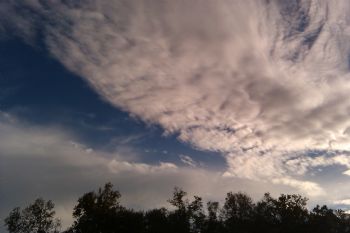 Found one little lone wildflower in the middle of the trail: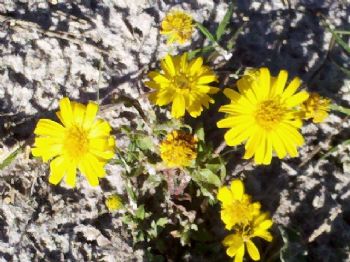 Many bushes covered in white flowers-not sure what they are: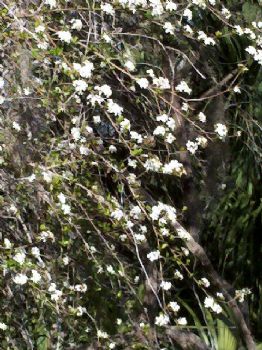 This Spanish moss, lit up by the sun looks like sparkling diamonds: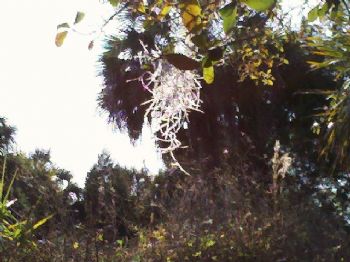 What we believe was a golden eagle we saw on the trail, at first we thought it was a hawk-but no hawks were that dark-he flew over us and we know for sure it was not a buzzard-he was huge: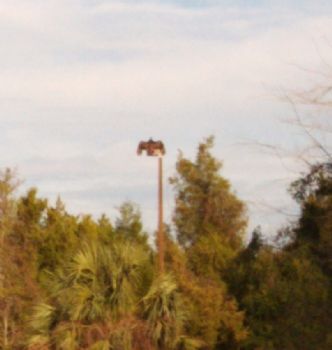 He was watching the nest of the osprey to the right out of camera range and at one point, she was squawking at him and then all of the sudden she took off and started chasing the eagle. What a determined Mama! I couldn't find the pic of the osprey nest we took. But, it is atop a light pole at the Florida Fish & Wildlife Commission's office near the trail.
One of my sparkfriends wrote something in her blog that Sparkguy-Chris Downie said on the Sparkcoach program & that is= "Healthy habits aren't the goal. They're the tools to reach your life goals."
So it is time to wise up and make healthier habits, just so we can reach those life goals! Work on that will power!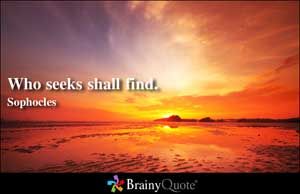 I think weight loss is a side effect of the lifestyle change-once you figure out the magic formula for your body, the rest is history! Eating right & exercise is something that will have to be in all of our lives day in and day out! Once we accept that and not think of it as a diet, we CAN make it work! Find something you enjoy to do and that will help...like walking in your favorite park or hiking a trail like we do! Make you life an adventure-like Sparkpeople's motto says!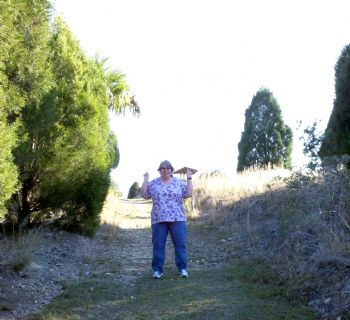 So the moral of this blog is: You are capable of anything!! Challenge yourself -make it happen!