Sunday, February 17, 2013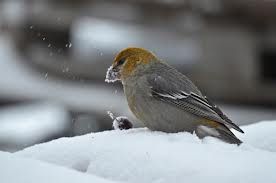 Photo from
ibc.lynxeds.com/photo/pi
ne-grosbeak-pinicola-enucl
eator/female-eating-fruit-snow
I had an interesting start to my morning. While getting ready I heard a thunk which I immediately knew was a bird flying into our kitchen window. I ran to the window and looked down and sure enough. Sticking out of the 3 feet snow drift was a small grey belly and 2 feet. I could see the belly moving up and down rapidly, but the rest of the bird was hidden beneath the snow. Luckily the dogs were still kenneled and the cats were inside. I rushed out and picked up a beautiful, but stunned, female grosbeak. I brought her in until she got here bearings again. Outside her small concerned and very beautiful flock waited. After about 20 minutes she was ready to spread her wings. We released her and she safely soared to join her friends.
It was a great way to start my day - hopefully it helped her out.
So, my wish to all of you is that if you run into an unexpected obstacle that knocks you off your feet, that there is someone there to help you get your bearings and spread your wings once again.
Light and love. Namaste. CJ