This is a LONG post.
Even long for me.
Let's burn some calories while you read it.
Stand up and do some squats or stretches or punches while you read.
Here we go...
There exists in art and photography and life a concept called PERSPECTIVE.
And it changes everything.
Let's play a game, shall we?
I hope you are at work reading this or even better out in public.
And that you are bold enough to play along.
Because folks might look at you oddly and it is fun to mess with people.
Life can be quite boring.
Shake it up a bit, OK?
I'd like to ask you to stand up on a table or chair or desk or somewhere else that folks don't normally stand ala Dead Poets Society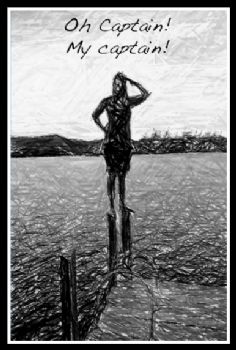 But I'd feel terrible if you fell.
So let's all lie down on the ground like this girl: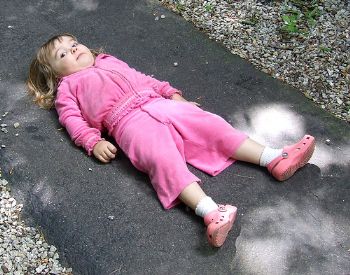 Or feel free to lie on your back like so: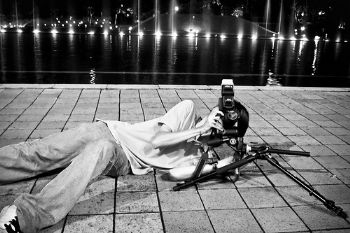 From this vantage things look differently.
I was reminded of this the other day when I was fixing the bottom of the fridge.
There's this slotted decorative piece that hides the less attractive parts that would otherwise be exposed.
Things tend to accumulate down there...
dust bunnies,
black lab hair,
dog treats that were pushed,
the occasional pencil,
other detritus.
Don't front - your fridge probably looks like that underneath too!
So anywho...
I'm down on the floor reattaching this piece of the fridge and my trusty sidekick, the lab, is right in the middle of it all...
Because dad's on the floor and that means something important must be happening.
Something vitally important that requires the help of a wet-nosed, overly curious, retriever.
You ever been down on the floor and seen a dog - maybe your dog - from the ground up rather than from the standing eye level down?
They look differently.
So does the room.
We just don't tend to get down on the ground and look up much.
Everything is from a sitting position or a standing position.
Change your perspective and that boring old room has a different look about it.
Perspective.
Quick art lesson about perspective.
Well, quick for me.
ONE POINT perspective is a technique which employs a single, distant "vanishing point" upon which everything ultimately converges. No matter how far off that might be. The classic example of this is poster from the 1977 movie "Close Encounters of the Third Kind." In a minor breach of internet etiquette, I'll show you a non-Creative Commons image. The movie came out over 35 years ago - WOW, has it been THAT LONG!? Somebody cue up Neil Young's "Old Man" for me... sheesh - and here's that image: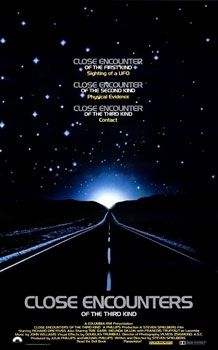 Here's a wireframe image which illustrates the idea which might help: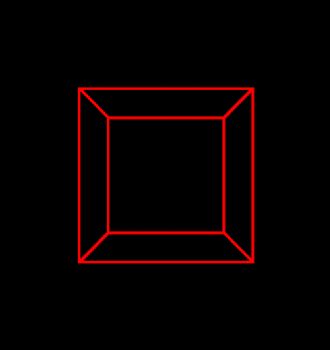 And another example of one point perspective. I really like this picture. It is a wonderful arched walkway with all those benches. I can just imagine sitting there on a beautiful day breathing the fresh air and enjoying time with a friend.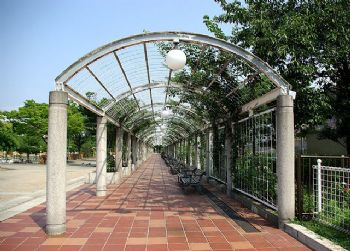 TWO POINT perspective is a technique which employs two, distant vanishing points upon which lines converge. In this technique rather than a straight-on shot, we rotate the viewer around so that she isn't parallel with the main object in the frame. The classic view for this is a shot of a house or building on a corner.
The wireframe image which illustrates that is: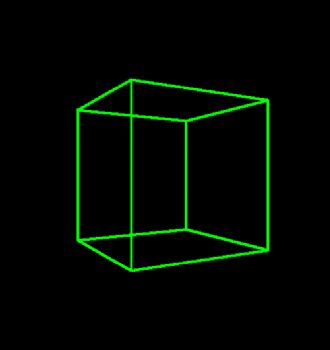 And I've got a couple of examples to show you. First is an old barn in black and white. I'm partial to old barns and buildings as there's a fair number of them in our state, particularly in the more rural sections. They remind us of a bygone era and a way of life that is slowly slipping away for most of us. Personally I like living on a farm albeit a small one.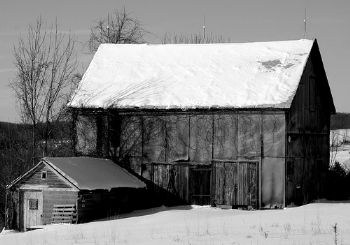 The second two-point perspective image is of an old butcher shop or at least a building which advertises one. Again, it is two-point though those vanishing points would be WAY off to the sides.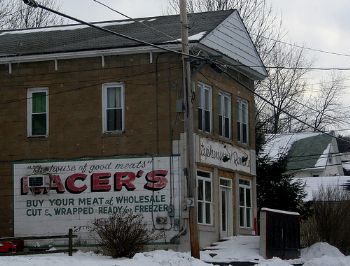 Now, THREE POINT perspective is fun because it is typically from down low or up high. The wireframe for this looks like so: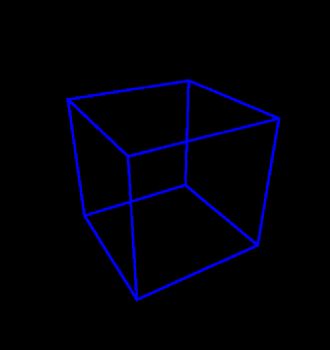 The standard shot for three point perspective is one looking down from the air at some structure on an angle. Here's an example of that - the iconic image of the Empire State Building which is located in, of course, Manhattan New York. This is from 1934 and quite a neat picture.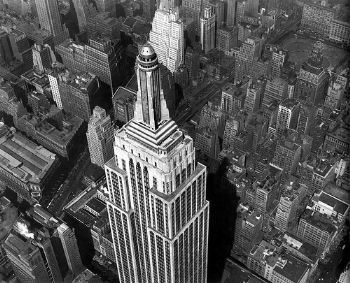 Finally... (yes, finally) I will talk briefly about FORCED PERSPECTIVE. Forced perspective isn't a new technique by any means but probably is best illustrated in the Lord of the Rings movies and the follow-on Hobbit trilogy. Let's get some stats about three main characters:
Sir Ian McKellen, who played Gandalf, is 1.8 meters tall - about 5'11".
Elijah Wood, who played Frodo, is 1.68 meters tall - about 5'6".
John Rhys-Davies, Gimli the dwarf, is 1.85 meters tall - about 6'1".
Using the idea of forced perspective, director Peter Jackson and his crew are able to place all three of those actors into a scene and make McKellen appear to tower over the other two. This is accomplished through some photographic "magic" involving placing characters at different distances from the camera. So while Gimli *appears* to be considerably smaller than Gandalf, what they cinematographers at Wing Nut Productions have done is carefully positioned the actors so that McKellen is closer to the camera than Rhys-Davies or Wood when those characters are in scenes together. Neat stuff, I think.
Here's an example of forced perspective which probably took some time to get right. But I suspect as low as that plane is flying that there are quite a few which fly over that field: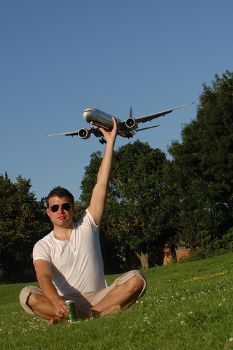 And since this is ultimately going to be about something related to health - PROMISE - here's a fun forced perspective shot:
I hope that was interesting.
As I wrote at the beginning of this post, perspective changes everything.
EVERYTHING.
I want to lay out a few points and then you can be on your way to reading other posts or doing crunches or eating a healthy snack.
Perspective Point 1: The Correct PERSPECTIVE on REALITY
It is EASY to believe that weight should just fall off of you because someone at the Biggest Loser ranch lost a lot of weight quickly, or your friend lost a lot of weight quickly, or some fool doing a "juice fast" is crowing about all the "weight" they are losing each day.
Recognize that REALITY is that over at BL they work out for HOURS a day. YOU probably don't have four or five hours a day to devote to exercise.
Recognize that your friend IS NOT YOU and your metabolism will differ. Also recognize that losing weight quickly means NOTHING.
Anyone can lose weight quickly by doing drastic things.
It isn't how fast it comes off. It is about sustaining a healthier life.
What's the point in losing X pounds just to put them all back on?
And recognize that JUICE FASTING is probably one of the DUMBEST things you can do. It isn't a weight loss method that makes sense and any "weight" being lost is at the cost of nutrition and normal body functions. And it is likely all coming back. Liquid diets aren't good. Doubt me? Ask your doctor about them. Almost NOBODY needs to be on one.
YOU don't need to worry yourself silly about what other folks are doing or what someone accomplished on the Biggest Loser.
YOU need to focus on YOU.
You need to focus on your health and a lifelong plan.
Your reality is that things need to change and that change takes HARD WORK and DETERMINATION.
And you need to recognize that the task before you is something that YOU CAN DO.
Perspective Point 2: The Correct PERSPECTIVE on MINDSET
It is CRITICAL that you don't view yourself as someone who is "meant to be overweight" or someone who will "always be obese" or as a "fat person."
Let's change that perspective, shall we?
REALITY is that you might very well be obese right now.
But that can change.
And a KEY change that needs to take place is related to your BELIEFS and ATTITUDES about your life and yourself.
Become your own number one fan.
I'm not saying to be an egotistical jerk.
I'm saying CARE about yourself and FOCUS on yourself and CHANGE how you THINK about yourself.
Don't beat yourself down.
Listen to the words you say about yourself.
Because they are a WINDOW into how you FEEL and THINK about yourself.
They communicate your BELIEFS and ATTITUDES.
Look, you're not perfect. None of us are.
But YOU CAN thrive - not just survive... THRIVE!
YOU can change your life.
And that starts with adjusting that perspective about yourself.
Recognize that you have worth and value.
Recognize that you have ability.
Recognize that you CAN DO this.
The time for negative thinking has passed.
The time to BUILD YOURSELF UP is NOW.
Perspective Point 3: The Correct PERSPECTIVE on RESPONSIBILITY
Nobody else can make you succeed.
Nobody.
Not your spouse, friend, kids, parents, coworkers, me, Bob Harper, Coach Nicole, your doctor, your teacher, your trainer.
Nobody.
No matter how much someone might WANT you to succeed at losing weight, getting fit and becoming healthier...
THEY are POWERLESS to make YOU succeed.
Hear what I'm saying - it is A GOOD THING if you have a spouse, friend, kids, parents, coworkers, me, Bob Harper, Coach Nicole, your doctor, your teacher and/or your trainer wanting you to succeed and encouraging you.
But NOBODY can do this FOR YOU.
So the BALL IS IN YOUR COURT.
The RESPONSIBILITY of changing YOUR life is YOURS.
Encouragement is important.
Wise counsel is helpful.
But ultimately YOU have to do this so YOU have to get your head on straight about your RESPONSIBILITY.
Step up and OWN your life.
Step up and CONTROL your actions.
Step up and DECIDE to take charge.
It is time to STEP UP!
A final note about FORCED PERSPECTIVE.
Just as forced perspective can make 6'1" tall John Rhys-Davies look diminutive next to 5'11" Ian McKellen, fooling us into believing that Gandalf towers over Gimli, YOUR forced perspective about how you can't do it and aren't strong enough and "always fail" and your belief that it is "too hard" is FOOLING YOU into believing all that rubbish.
Don't allow yourself to BELIEVE that you can't do it.
Don't allow yourself to empower all those negative thoughts and memories of poor decisions and failures in the past. The past has PASSED and it is HIGH TIME you started deciding to dispense with the drama and the mindset of defeat.
Three words:
KNOWLEDGE.
COMMITMENT.
CONTROL.
THE TIME IS NOW to get serious.
If you are struggling to "get on the horse" or "get back on the wagon" or "get back on the program" then it is TIME TO QUIT FIDDLING AROUND AND GET SERIOUS.
I honestly and sincerely want to say that it is TIME FOR YOU TO DO IT.
NOT TOMORROW.
NOT NEXT WEEK.
NOW.
The time isn't to make video blogs about you can't do this or that.
The time isn't to make excuses.
The time is NOW to get serious.
You don't need a special program or special workout clothes or a special gym or special food.
You just need to dispense with the crappy perspective you have and see things clearly.
Would you rather I pat you on the head and say "there there.. it'll be OK. You are trying and shouldn't expect so much out of yourself."?
Best find a different blog author then.
And be prepared to STRUGGLE and CONTINUE TO FAIL over and over and over.
Suck it up and decide to DO SOMETHING.
CHANGE YOUR LIFE.
YOU need a fresh perspective.
Because without it... success will be elusive.
One Final Thought
Do you realize that weight loss is hard?
It is REALLY hard.
But it is ABSOLUTELY POSSIBLE.
And the ONLY THING between YOU and SUCCESSFUL WEIGHT LOSS?
YOU.
That's it.
The sooner you get that CORRECT PERSPECTIVE on what your role is and just how much power you have over food, the sooner you can begin seeing that LONG TERM SUCCESS.
I'm CERTAIN of that.
You are strong.
Strong enough.
Much Stronger than you might think.
And you can do this.
Make it a great day!
Matt
----------------------------
---------------------
Images made available under a
Creative Commons license by the fine folks
on flickr who have so generously allowed
others like me to use their images:
Bluesguy From NY
bulletproofsoul67
Storm Crypt
Great Beyond
Cali4beach
Clover_1
kennytyy
maclee_lee
Thanks for the use of your images!
----------------------------
---------------------