Saturday, February 16, 2013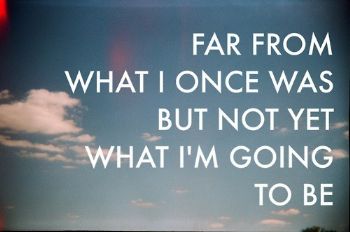 Yesterday I went clothes shopping for myself which has never been one of my favorite activities because when I was small, my father's mother liked nothing better than taking me shopping and using me as a dress-up doll. Quite a change from the way my mother and grandma shopped for me which consisted of them choosing outfits and letting me pick the one I wanted instead of modeling outfit after outfit.
Which leads me to my emotional experience of crying in the changing room. Not because the clothes I was trying on didn't fit, but because they did.
I made myself sit down and process the feelings and told myself not to be ashamed of crying but to be proud of all the work I had done to get to this point and that yes, the person you just clearly saw reflected back at you in the mirror is indeed, you and all the times you've glimpsed that smaller figure out of the corner of your eye as you've walked in front of a window's reflection, it's been you, not someone else. You are smaller than you think you are and the picture in your head of your size is wrong.
I now realize that all the work I've been doing trying to align my head and my heart is working but I'm not done yet. I have to replace that picture of myself in my head with a smaller version and continue on my journey.
I admit I keep looking at the two pairs of work trousers just tickled at how tiny they look as compared to the other ones I had been wearing, still marveling at the fact that I fit into them.