Lose weight fast without dieting or exercise – Back to the Future?
Saturday, February 16, 2013
"No Ill effects" either. We've heard that before.
Slenderella's blog the other day (Biased information in my face)
www.sparkpeople.com/mypa
ge_public_journal_individu
al.asp?blog_id=5250493
reminded me of this advertisement from long ago.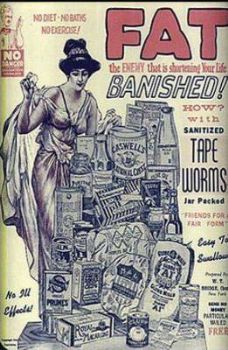 We are constantly bombarded with "easy" solutions and pronouncements by "experts" claiming to know absolutely what, how and when we should eat.
I wonder if the outrageous advertisements and claims being made today will look as foolish to future generations as this does to us.