Doing well so far!
Friday, February 15, 2013
Hi everyone!
Ever since I started my challenge, I have been inspring people at work to eat better. For example, someone decided to put 7 boxes of girl scout cookies in the lounge and I avoided them like the plague. Don't get me wrong I LOVE Girl Scout cookies but since I want to do well on the challenge I wasn't really tempted by them.
.... Well, honestly, I was a little but I had to remind myself about the prizes. lol
One of my co-workers is also trying to lose weight and she told me what she does is pretend that the food she is tempted by has mold on it. lol I thought it was pretty funny maybe I'll do that too if I'm having trouble.
What I have been doing this week-










I am a huge fan of the blender bottle, and was happily surprised to see they made a sport verison of it so I have been using it to remind myself to drink water at work. Since it is also a blender bottle, I can still use it to mix my protein shakes if need to.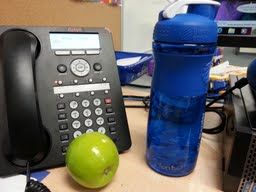 I LOVE MY BLENDER BOTTLE!!
I also have been snacking on green apples, cuties, and different veggies at work. It really helps when I'm at the end of the day.
My sister and mom yesterday have told me that my skin looks better. I weighed myself this morning just to take a peek and I'm down 2 pounds from Saturday!

Alrighty, have a great three day weekend! (if you have one)
Talk to you all soon!
*Lori~*