Friday, February 15, 2013
Ok so I had a great non scale victory yesterday thanks to the hubby and me being brave.
I am finally starting to feel better about the way my body is and trying to accept it no matter what size I am so for Valentines day I told my hubby he could go down to Victoria Secrets and get me something pink and a baby doll style. I was so nervous about what he was going to get me and that it would not fit and I would look fat in it and he would not like it on me.
He got me this pink lace satin slip nightie and I was so nervous. I love my hubby so much and he has always found me sexy no matter what size I was so not only was I trying this for me but more for him.
I put it on and almost cried. It fit (almost a little too big) and I looked pretty great in it, well except for the chest area. My tatas have fallen and they can't get up (without lots of help) and it is a good thing I don't have a big complex about them. Hubby really really liked it too.
I still need to work on the self loathing inner dialog that takes place in my head because when i looked in the mirror and thought I looked good, but then I immediately went to saying yep, look good but........... if the thighs were thinner it would look better. I have to work on that, my hubby thinks I look beautiful and I should think that too.
Time to start loving myself.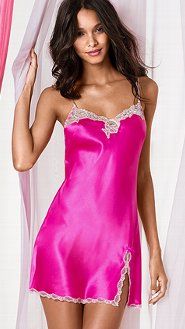 The one I got was more of a Candy Cotton pink.