Thursday, February 14, 2013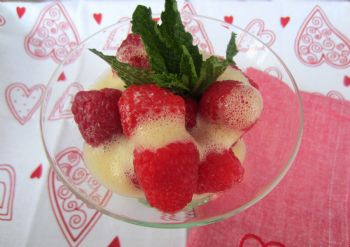 Happy V-Day, my friends!
Valentine's Day is one of my favorite days of the year. An entire day devoted to indulgences, treats and sweets of all kinds - what's not to love? Little gifts, love notes, romantic dinners out (or in!) and, of course, a decadent dessert. When it comes to healthy eating, however, days like this can be tricky. Food is an important part of holidays and we all want to feel like we've indulged in something special, but there's a fine line between indulgence and overindulgence.
The way I see it, indulgences are supposed to make us feel good. Eating without any sense of restraint doesn't feel good (or terribly romantic!?!). In fact, the guilt and remorse that follows a "throw caution to the wind" meal usually aren't worth the short pleasure that it gives us. So, what on earth is a pleasure seeking, dessert loving, healthy girl to do?
(Read the rest of this post at SiciLean:
www.sicilean.com/2013/02
/fresh-rasberries-with-zab
aglione-healthy-and-decadent.html
)