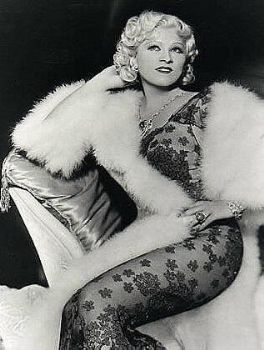 I'm crazy about myself. -- Mae West

I read that fantastic quote this morning in a post written by the very excellent Sparkster and Azurita FitNHealthyKal.
And it got me thinking. Thinking about how hard it is to move from the body-hatred that is pounded into women's heads by the mass media. Just about every television commercial and magazine ad subtly (and sometimes not so subtly) tells women that they are not good enough exactly as they are. They must buy certain products and do certain things in order to become merely acceptable in the eyes of the world.
According to the media, our bodies are wrong and unacceptable as they are. They are too big, too flabby, too old, too wrinkly, too hairy, too smelly. Therefore, if we are to be worthy of love, we must fix all of those imperfections.
Even Mae West appeared in ads like that. Here's a Valentine-themed ad for a soap.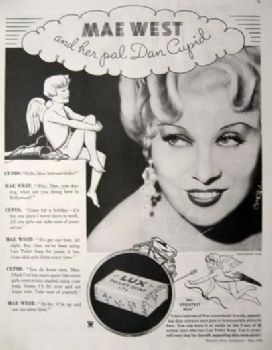 The good news is that it IS possible to move from self-hatred to self-acceptance to self-love. If you're willing to do the work, it IS possible.
One technique I learned many years ago was to spend some time looking at yourself in a full-length mirror every day - naked, if you want to jump ahead into the advanced class, clothed if you're not quite ready to go that far.
Then just begin to describe what you see, using neutral words only. As if you were an artist describing what she is sketching. So, if you're looking at your waist and hips, you could say "my body curves in and then curves back out" or "the skin on my chest has a pink tone and there are freckles on my shoulders." Descriptive words and phrases only. The second you hear yourself say something disparaging ... STEP AWAY FROM THE MIRROR!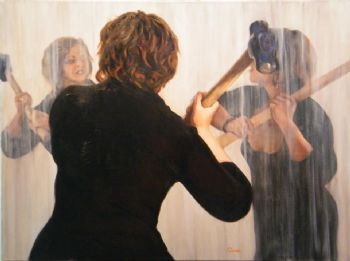 Then, try again the next day and see how much longer you can remain neutral and descriptive as you observe your own body. You will eventually learn to see and accept your body as it truly is and not have a single disparaging thing to say about it.
That level of self-acceptance is the first step towards self-love.
It's hard to do but oh so worth it.

Mae West knew that it wasn't just what you look like that counts. It's attitude. And sass. And fire. And she had it in abundance.