Thursday, February 14, 2013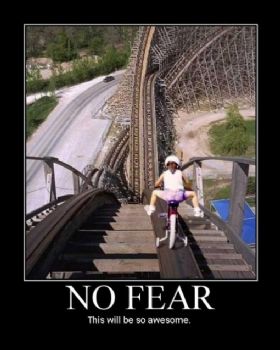 Kinda like sea legs but with more fear. I am new to cycling and I do like it I am just afraid. Afraid of falling, getting hit by a car, turning, the hills in the tunnels on the canal, going too fast.
My brain just doesn't want to let me ride in peace. It's all new to me. I feel like I need one of those bumper stickers on my back that says "Student Driver".
I went riding last night and I was fine on the canal minus the tunnels part. I am sure that the seasoned riders were like why is that chick so slowwwwww. lol It was rush hour so riding down my street freaked me out cuz the cars were so close!
I am not usually a fear based person but this is kicking my butt! Any suggestions on how to get over this fear?
We have something here in Scottsdale, AZ called the Green Belt. Perhaps I will try that. No cars.
I don't want to give up. It's all new. I will overcome this!!! I cannot let fear rule me! It's just gonna take time!
False
Events
Appearing
Real