Thursday, February 14, 2013
Earlier, I blogged about what my ideal Valentine's Day would look like. This is how it actually went down...
As I have to work tomorrow night, we decided to celebrate a day early. Hubby got home from work tonight (I was already home), took an incredibly fast shower, let the dogs out, and then we both hopped in the car. We drove an hour to a casino near us. We spent a little time walking through the casino, but didn't gamble. We found the buffet and had a really nice supper. (I loaded up on veggies, fruit and fish). We spotted our favorite comedian (Brian Haner aka Guitar Guy from the Jeff Dunham videos) sitting a few tables over. (I totally stalked him and took a picture of him eating).
After supper, we walked back through the casino. We each spent a dollar on a penny machine. Here's a picture of our big winnings!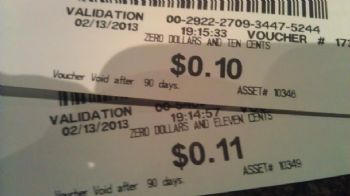 After that, we headed to the casino's club where Brian Haner was performing. We had a FABULOUS time! I laughed until my sides hurt! After, we stopped at the grocery store, then drove back home.
Definitely not what I would have picked as my ideal Valentine's Day, but one that came pretty close to being perfect.