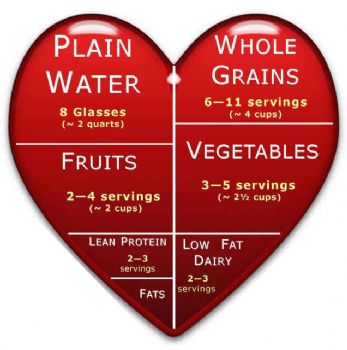 February is Heart Month both in the US and Canada, and unfortunately, most of us know someone who has had heart disease or stroke. Cardiovascular disease is the leading cause of death in the United States; one in every three deaths is from heart disease and stroke, equal to 2,200 deaths per day. And in Canada, heart disease and stroke take one life every 7 minutes and 90% of Canadians have at least one risk factor. Scary stats indeed and so it seems timely to look at some foods that can indeed help fight heart disease.
www.webmd.com/heart-dise
ase/ss/slideshow-foods-to-
save-your-heart?ecd=wnl_hy
p_011713&ctr=wnl-hyp-01171
3_ld-stry&mb
tells us about
Almonds
Slivered almonds go well with vegetables, fish, chicken, even desserts, and just a handful adds a good measure of heart health to your meals. They're chock full of plant sterols, fiber, and heart-healthy fats. Almonds may help lower LDL cholesterol and reduce the risk of diabetes.
Tip: Toast to enhance almonds' creamy, mild flavor.
www.foodreference.com/ht
ml/falmonds.html
shares lots of interesting trivia about almonds.
- California produces 80% of the world's supply of almonds.
- Chocolate manufacturers use 40% of the worlds almonds (2008).
- California produced 998 million pounds of almonds in 2004. The largest crop on record was in 2002, with 1.084 billion pounds.
- It takes more than 1.2 million bee hives to pollinate California's Almond crop (over 550,000 acres).
- Chocolate manufacturers currently use 40 percent of the world's almonds and 20 percent of the world's peanuts.
- Historians generally agree that almonds and dates, both mentioned in the Old Testament of the Bible, were among the earliest cultivated foods.
- Almonds are one of only two nuts mentioned in the Bible (Genesis 43:11) the other is the pistachio nut.
- Almonds are actually stone fruits related to cherries, plums and peaches.
- Japanese teenagers enjoy snacking on a mixture of dried sardines and slivered almonds.
- The world's largest almond factory is in Sacramento, California. It processes 2 million pounds of almonds a day.
- It takes 1000 pounds of almonds to make 1 pint of almond oil.
- The Jordan almond is a large plump variety of almond from Malaga, Spain, considered to be the finest cultivated almond. The are frequently sold with a hard colored sugar coating, or salted.
- Almonds are the most nutrient-dense tree nut. One ounce of almonds (20-25 almonds) contains 160 calories and only 1 gram of saturated fat and no cholesterol. Almonds are also an excellent source of vitamin E and magnesium, and a good source of protein and potassium.
- The protein in almonds is more like the proteins in human breast milk of all the seeds and nuts, which is why it is the choice of the Canadian College of Naturopathic Medicine as the base for its baby formula.
This salad from
allrecipes.com/Recipe/Ro
maine-and-Mandarin-Orange-
Salad-with-Poppy-Seed-Dres
sing/Detail.aspx?prop24=RD
_RelatedRecipes
is a little high in calories, but I luv poppy seed dressings and have decided this could be a special treat once and awhile - yum!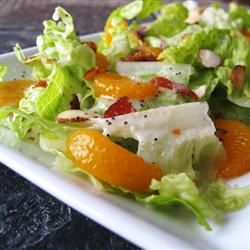 Romaine and Mandarin Orange Salad with Poppy Seed Dressing
Makes 6 servings
Ingredients:
6 slices bacon
1/3 cup apple cider vinegar
3/4 cup white sugar
1/2 red onion, coarsely chopped
1/2 tsp dry mustard powder
1/4 tsp salt
1/2 cup vegetable oil
1 tsp poppy seeds
10 cups torn romaine lettuce leaves
1 (10 ounce) can mandarin orange segments, drained
1/4 cup toasted slivered almonds
Directions:
1. Place bacon in a large, deep skillet. Cook over medium high heat until evenly brown. Drain, crumble and set aside.
2. Place vinegar, sugar, red onion, mustard powder, and salt into the bowl of a blender. Cover, and puree on high until smooth. Reduce blender speed to medium-low; slowly pour in the vegetable oil and blend until incorporated and the dressing is creamy. Stir in the poppy seeds and set aside.
3. To serve, toss the romaine in a large bowl with the crumbled bacon, Mandarin oranges, and enough dressing to moisten. Place onto salad plates and sprinkle with toasted almonds.
Note: To cut calories, one could lessen sugar to taste and as well as the bacon I suppose.
Nutritional Info per serving:
Calories - 457
Total Fat - 33.7g
Saturated Fat - 7.3g
Cholesterol - 19mg
Sodium - 342mg
Potassium - 407mg
Total Carbohydrates - 34.8g
Dietary Fibre - 2.9g
Sugars - 31g
Protein - 5.9g
Vit A - 117%
Vit C - 65%
Calcium - 7%
Iron - 15%
Thiamin - 24%
Niacin - 19%
Vit B6 - 10%
Magnesium - 14%
Folate - 74%