We've all seen her. The little girl in the corner at the party with her arms folded across her chest and a pouty mouth, mad because something didn't go her way. The people around her are trying their best to make her smile, to reassure her that it's going to be okay, just come out and have some fun. She won't look anyone in the eye and quickly turns away from them with tears in her eyes, defiant and a little testy. All she can think of is how "unfair" life seems to be...
A couple of weeks ago I got hurt at work which resulted in an accident report, a few days of being incapacitated on the couch and light duty at work. Not to mention the ultimate loss of a friendship that I didn't have the energy to try to maintain anymore. I went into "pout-mode." Then my weight increased. (I am now back up to 124.5.) I ate to numb the physical and emotional pain. My appetite/cravings escalated and now it's a battle to keep them under control. There is the rabbit hole...it's always lurking but this time it seemed bigger and strangely more welcoming. Self-pity? I was and still am the poster child for it. But...
You guys won't let me wallow, will you? I've checked my page...the SparkMails are overwhelming with kindness and concern. The goodies spoke equally as much. Now you guys have resorted to commenting on my page, some with "tough love." (I gotta admit, one of them really ticked me off but I guess it got me on here spilling my guts. But I will deal with "you" later in a private message and it won't be pretty so consider yourself for-warned.)
It doesn't take a brick to fall on my head to know you all care. But I'm still a little mad. I feel a little failure in the fact that sometimes my health gets all screwy and I can't run with the big dogs. I'm ticked that a friend decided that, after all, I WAS just an option, no matter how much I cared and tried to be there for them and "checked out." But it gave me time to see the others around me who really DO have my best interests at heart. Who really do love me for...ME. So I thank that person for allowing me to realize my worth does not lie in their eyes. I thank that person for helping me to see the others around me who truly care about my heart and what it stands for.
Like Betsy. And Brad. These two people have basically kept tabs on me every day. I would say they are my two greatest friends. No matter if I was at work or home, I would check my phone or go to break and find a funny text or a sweet voicemail. Even a funny picture or two. It's kinda hard to stand in the corner pouting when you get a funny pic of Dewey posing for the camera (Dewey is Betsy's extremely handsome cat, btw) or a hand-drawn picture of a stick figure with arms open wide screaming, "I LOVE YOU THIS MUCH!!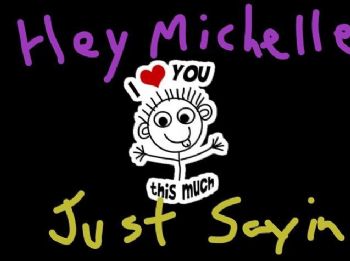 Or even this cute little pic from my daughter exclaiming that two heads are better than one...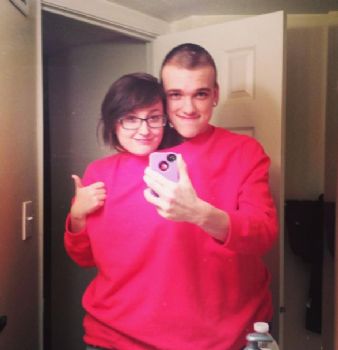 Sooo, I guess it's time to let a little smile replace the pout, even though the arms are still folded, albeit not as tightly, across my chest. I'm looking secretly out of the corner of my eye and feeling a little break in my defiant attitude. I want to slowly join in the party again. Yes, I'm still a little miffed at myself, weight gain and all, but I will get back out there on my trail again, huffing and puffing off the pounds. So, you see, PumpedUp, I did not quit. I may have felt like it, been tempted to do it, threatened to do it and had myself believing that I did it, but there is a spirit in me that won't allow me to. So there.
It's time to see, feel and enjoy the company of my TRUE friends. Who never gave up on me. Or who kindly gave me the space to go through the torrent of emotions that needed to be steamed off.
I'm healing. I will be okay.
God bless. You are loved.