Tuesday, February 12, 2013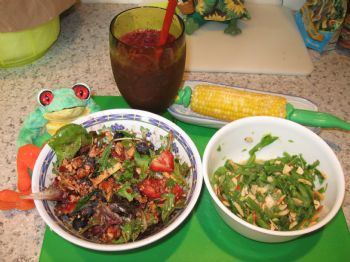 This is my "colorful" rainbow dinner~~
Mixed greens salad with grilled chicken
Basil Vinegret dressing
Bicolor corn on the cob (fresh)
Green bean almondine
Raspberry tea
Salad contains:
mixed varieties of lettace & mesculin including red leaf & butter & boston & endive, etc.
red, yellow, purple, & green bell peppers
sweet banana peppers
onion
tomato
strawberry
walnuts
grilled breast of chicken
celery
blue berries
green beans contained:
green beans (fresh)
almonds
onion
This was last night's dinner!! I am on a fresh veggie kick right now!!!! This was scrumptious!!!!