Confessions of a bad eater.
Tuesday, February 12, 2013
I've been having the absolute worst emotional eating the past few days, and it really needs to stop!! I told myself I was going to do good today, but forgot that it's fat tuesday and someone at work brought paczkis. While I am not supposed to eat gluten, I indulged. I let myself eat gluten every so often. Mainly just at the holidays when I actually want to enjoy my meal. So lucky for my boyfriend, he can expect me to be crappy and depressed in a couple of days, lol. I really must get my eating under control, I was doing so well there for a month or so.
I took unofficial progress pictures for this month. I'm not wearing the same clothes, but I'm hoping there's a difference. I've lost over 3 inches, so there should be. I notice it the most in my waist and back. Definitely didn't make as much progress as I could have, between the eating lately and sitting out for 2 weeks with an injury.
So here it is -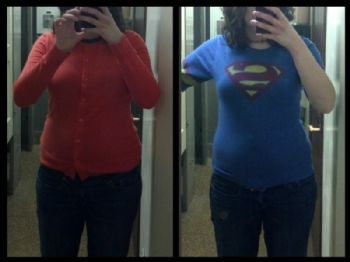 Left: 1/10/2013 Right: 2/12/2013
I absolutely cannot wait to do my workout tonight! I am so happy that I have found a program that makes me excited to go on to the next day! Hopefully I won't find any more DVDs I'm not too fond of... right now there's only 1.
So today I am drawing a big fat line! Better eating as of tomorrow! I need to go shopping.