Before we get started, grab some water and something healthful to snack on.
I'm going to write a tome here, I'm sure of it.
Some of my fine SparkFriends asked questions in response to my post entitled Mindset. You could read that post here:
www.sparkpeople.com/mypa
ge_public_journal_individu
al.asp?blog_id=5245626
I thought I'd respond in this blog post where I could paraphrase those questions and better expand upon my thoughts.
Question: What is your practice for keeping your focus?
Interesting question.
Perhaps you might expect me to talk about some special "way" that I developed or had come upon to keep my focus. Some process I read about in a book or maybe heard some speaker talk about.
Nope.
Not really.
In truth, the answer is in the punchline.
You know the punchline to that joke "How do you get to Carnegie Hall?", right?
"Practice, practice, practice."
PRACTICE.
Question: How do you make yourself believe those thoughts and then have it change your perspective?
Another interesting question.
How do I MAKE myself believe those thoughts?
Hmm...

facio, facere, feci, factum...
That's Latin for those of you who, for better or worse, either didn't take Latin or have forgotten it all.
Facio is the Latin word which means, among other things:
"to make", "to do", "to form", "perform", "to cause", "to bring about"
How do I MAKE myself believe those thoughts?
I'm going to go with the second word of that punchline for this one:
Practice.
If I want "to bring about" - facere - the change, we'll I've got to DO something.
By the way, that's another Latin word...
exerceo, exercere, exercui, exercitum
Look like a word you might know in English?
Exerceo means "to exercise", "to train", "to cultivate", and most importantly here...
"to keep at work"
TO KEEP AT WORK
How do I MAKE myself believe those thoughts about my strength?
How do I MAKE myself believe that I can do it?
How do I MAKE myself stay focused?
Practice.
That is the long and the short of it.
I, to borrow a phrase out of ol' Mr. SoundBite's playbook, "fake it until I make it."
Meaning, I EXPECT that I will THINK I am stronger by WORKING on making myself stronger.
Even if I'm not stronger yet.
Maybe that's a bit of a mental trick.
Perhaps you think that's a cheat.
But it works.
A second question was about whether I had mantras or affirmations that I said and, if so, how often did I do that.
Another interesting question.
Well I don't do "mantras" or anything like that.
Not my thing.
If it is yours, well... great.
Glad that works for you.
I don't stand in front of my mirror and tell my reflection that I'm smart or strong or capable or anything like that.
I don't think there is anything wrong with doing that.
I just don't do that personally. More on that in a minute.
But I KNOW that having words of affirmation in one's life are important.
Even if they only come FROM YOU.
Some people NEVER hear a kind, supportive word.
I hope that isn't you.
And if it is... well, then maybe you need to tell YOURSELF some kind, supportive words each day.
It isn't crazy to do so.
Honest.
Instead of talking to myself in the mirror, I write an almost-daily blog where I do that.
Because all these posts - they are DIRECTED TO ME.
In them I remind myself about the importance of focusing on what is important.
And methods of accomplishing that.
And guess what?
I read my own blog posts.
All the time.
One comment a SparkFriend made was:
"There is a majority of the time that the insecure thoughts creep in. It is literally a full-time job to stay in check. If that's how it has to be, then okay."
Interesting comment.
So I approach this much like I approach other things in my life.
Can you guess what I'm going to say?
Here's a hint: It's the THIRD word of that punchline.
Practice.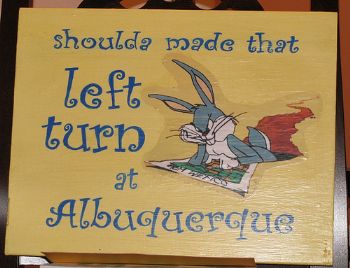 Let me take a hard left turn at Albuquerque for a moment.
At 17 I tried to learn to play tennis with my brother.
I STUNK at tennis when I started.
My brother has natural talent and skill and I'm sure I frustrated the heck out of him as we hit back and forth at the park.
The head of my racket knocking the balls over the fence.
Again.
And again.
And yet again.
We'd take an entire hopper of balls there.
And by the end of it, dozens of them would be outside the court.
Or over in someone else's court.
Or in the parking lot.
It is a bit comical looking back.
But I kept at it.
I wanted to play tennis.
Rather than believing that I couldn't play.
I believed that I could and that I could get better.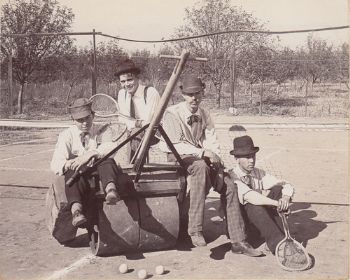 By the time I was 19 I played a lot of tennis.
Several times a week.
Evenings, weekends and as part of my physical education requirement in college.
My doubles partner, Mike, was a six-foot-something beanpole of a redhead with a big serve and a big mouth.
Mike would talk smack to anyone and everyone trying to get them to play doubles against us.
The number one seeds at the city high school.
Some college guys he saw playing at the courts.
Two middle aged guys with wicked net play and military buzz cuts who grunted when they served and high-fived each other all the time..
The fellow with the Lionel Richie Commodores-era hair and glasses who glided across the court like butter on a hot pan and his quiet gray-haired partner with his keenly accurate two-handed backhand down the line shots.
A couple of bumbling twin brothers from England who argued most of the time and routinely lost to us.
Didn't matter.
My partner would bait them into playing us.
Telling them how good we were and how we couldn't find anyone to play that was a challenge.
Funny stuff, looking back.
But we weren't nearly as good as the brochure he sold them.
I could hit hard and was aggressive at the net.
But my second serve stinks.
My first serve was flat and hard.
When it landed in, it was fantastic.
When it didn't... well, it was a double-edge sword.
Mike's serve was a killer too but he was more bark than bite.
A bit too aggressive at the net at times (like me) and prone to get beat (like me) by a passing shot.
But despite all those faults and shortcomings.
We kept playing.
We kept practicing.
We kept on doing what we needed to do.
Mike and I were never going to be pro-level players.
And there were a truckload of local pairs who could beat us.
But we didn't quit and we kept on trying to win.
How were we going to get good enough?
Yeah... you know.
On the idea of insecurities and feeling inadequate or that you aren't strong enough, I would encourage you to recognize that most folks are just "faking it until they make it" too.
Trust me.
They are.
We ALL have moments when we doubt ourselves and when we question if we can do it.
That's when YOU have to push past that.
Because you CAN push past that.
Put into PRACTICE the PRACTICES you want to have and guess what?
You'll start BELIEVING that you can.
Another question dealt with how to deal with the demons of doubt and drudgery trying to scuttle your ship once, to mix my metaphors, you find you've hit a wall.
My SparkFriend was concerned - IS concerned - about the honeymoon phase wearing off and that leading to the monotony of the program.
The thrill is gone.
I think that is an interesting situation.
One that happens to MOST people.
I wrote about that in my blog post "The Thrill is Gone" which you could read here:
www.sparkpeople.com/mypa
ge_public_journal_individu
al.asp?blog_id=5146477
To expand upon what I wrote in that post, I would add the following:
When we aren't ON some program or plan or following some diet we don't tend to think about the monotony of the "plan" we are on.
Because while we don't really think about it we are, in fact, on a plan.
It's the autopilot one.
The one that just freebirds it through life, paying not a care for the consequences.
Doing the same things that we always do.
Overeating.
Sitting around.
Telling ourselves that it is hopeless.
We just don't call that "a plan".
But it is.
We need to REPLACE that crappy one with a better one, for sure.
But it MUST be one that we can SUSTAIN for the long haul.
That's why I'm not a fan of book diets in general and taboo foods.
That's why I think juice fasts are stupid and pointless.
That's why I like variety and flavor in my foods.
That's why I work into my diet foods I like.
The "plan" or "program" or whatever you wish to call it must be something that is SUSTAINABLE for the long haul.
The ACTIVITIES that you do must be things you LIKE to do.
Hate that cardio DVD?
Can't get into zumba?
Not a fan of free weights?
Then do something that YOU like.
Walk.
Hike.
Swim.
Play tennis.
Ride a bike.
Run intervals.
And MIX IT UP.
I wrote about that in "Mix It Up or You WILL Burn Out!", which you could read here:
www.sparkpeople.com/mypa
ge_public_journal_individu
al.asp?blog_id=5226316
You've got to keep it fresh and fun and interesting.
Or you will find yourself "hitting that wall" or "burning out" or "getting bored."
How do you get to Carnegie Hall?
Practice, practice, practice.
You need to effect the belief that "I can do this." by....
that's right - putting into PRACTICE the actions that are themselves bolstered up by positive thoughts.
It's a cycle.
A feedback loop, if you like.
You need to DECIDE that you will get there by continuing to soldier on.
Not tracking your food well?
Start burning in a new mindset about tracking by DOING IT each day.
Practicing.
Having trouble with your beliefs and attitudes about being strong and capable?
Start trying to improve each day.
I wrote about that in Improvement, which you can read here:
www.sparkpeople.com/mypa
ge_public_journal_individu
al.asp?blog_id=5242924
Focus on incremental improvements and THAT will feed back into your thoughts.
Those will affect your beliefs and attitudes.
And those will spur you on to improve.
Practice those things that you "are having trouble getting motivated to practice" and you know what?
You'll succeed.
Practice DOES NOT make perfect.
I don't think that at all.
But it does create permanent patterns.
Think about that for a second.
I know you're tired from reading this "Tale of Two Cities" length post but think about it.
I'm almost done.
If you are struggling to keep going then you have two choices, right?
Keep going or stop.
Six times (I counted) during my Bob Harper 1-hour cardio video I wanted to stop.
Six times.
My "brain programs" were saying
"you could stop if it is hard"
and "you've done 20 minutes"
and "just tell your daughter that dad's tired"
and "now you've done 30 minutes, go ahead and stop"
and then "forty minutes... that's enough"
and "forty five minutes is plenty, really"
They kept, metaphorically speaking, whispering to me that I couldn't do it and that I didn't really need to.
Each time I had to ACTIVELY think "yeah, really? But it sure looks like I AM doing it and I DO need to".
Each time.
And at the conclusion of the butt-kicking workout.
I'd done it.
Not only had I completed a workout that was difficult.
But I'd successfully fended off the thoughts of quitting and the belief that I wasn't strong enough.
I put into practice the EXACT actions that those "demons" were saying I couldn't do.
And I proved them wrong.
And next time?
I'll do the same thing if those thoughts creep back in.
How do you get to YOUR Carnegie Hall?
Practice, practice practice.
You can do this.
You are strong.
You are capable.
Strong enough to do this.
Strong enough to change your life.
Make it a great day!
Matt
[Photos used under Creative Commons license.
Thanks to wallyg, professorbop, sebastiagiralt, greengardenvienna and justderek!
Their work can be found at flickr.com/photos. ]