Yes, my son's name is Lincoln and yes he was born on Abraham Lincoln's birthday. But that fact is NOT why we named him Lincoln. This is a God-story, so sit back and be in awe of God and His mighty works.
We were married 5 years before our daughter came along. It was another 5 years until our son came along. I don't do pregnancy well. I puke for the whole pregnancy all hours of the day and night and then in the final months, I develop pre-eclampsia.
Because of the pre-eclampsia with our daughter, she was induced 2 weeks early. She is C____ Reagan. 5 years later, we learn we were having a son, due MARCH 12. We want a name to go with daughter's, just for fun and since we are a political family, the name Lincoln was chosen.
The puking isn't as bad this time, but I do have a 5yo to care for and develop pre-eclampsia early. I am put on complete bed rest. Friends step up and help with the care of daughter, keeping her most of the day when she is not in preschool.
The pre-eclampsia is getting worse and so is my kidney function. At my weekly doc visit, stress-tests are the norm. At 36 weeks, my body begins uncontrollable shaking. We are admitted and labor is induced. There's wires and tubes everywhere on both me and the baby. It is obvious that he is in distress. But my labor won't progress. More measures are taken to urge the labor along. Even I could see the concern on the doctor's face. The measures work! No surgery needed!
At 11:28 pm, on FEBRUARY 12, Lincoln D___ is born....at only 36 weeks and weighing only 5lbs 3 oz.
But that is just heavy enough to go home 2 days later! He's made the 5lb cutoff weight!
He had no premie complications either! (a bit of jaundice days later, but some rare warm Feb. sunshine took care of that!) His apgar score is fine!
He was perfect!
He was no bigger than the size of a bag of sugar. His tiny perfectly shaped head fit in the palm of your hand and he stayed in that tight newborn fetal position for a month. That made his rolled-up length about the length of a VCR-tape cassette. We have pictures! LOL
Today, Lincoln is 16 yo. He's nearly 6ft (won't be near Abraham Lincoln's height) and he's bulking up muscle-wise (won't be rail-thin like Abraham Lincoln), but he loves the outdoors like Abraham Lincoln and he loves freedom and justice and peace. He has developed a pretty sharp wit as well.
It obviously was in God's providence that Lincoln be born on Feb. 12. We still don't know the reason why, but every year, it causes me to praise Him for how He saw us through a very difficult time.
I wonder what Abraham Lincoln would think of Lincoln's Honda XR100 motorcycle.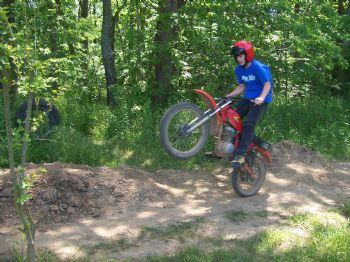 Happy Birthday, Lincoln!