Courage
Tuesday, February 12, 2013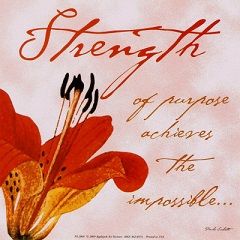 Today while I am anxiously awaiting an oncology appointment, I recognize that I worry too much before I know. Looking back over the more than half century, I think about how much time I have spent and how much more I have missed. Such a waste!
One of the people that I love to read is Maya Angelou. Boy do her words on courage ring true for me today!
"Courage is the most important of all the virtues, because without courage you can't practice any other virtue consistently. You can practice any virtue erratically, but nothing consistently without courage.
Whether it is something simple as an appointment or something as big as going to war, we can all at one time or another associate with her words. It is just that at times, it seems like courage is like trying to pour the ocean into one petite seashell!