Tuesday, February 12, 2013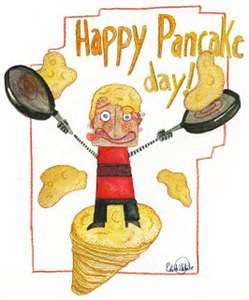 I'm not sure how widely Pancake Day is celebrated - certainly not here in Belgium. Last weekend saw the local carnivals take place, we missed them due to my daughter's illness but I caught a couple of floats making their way home .....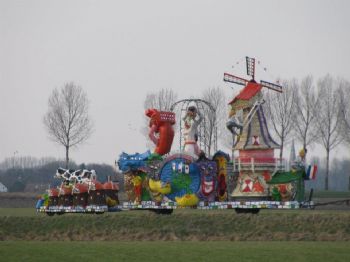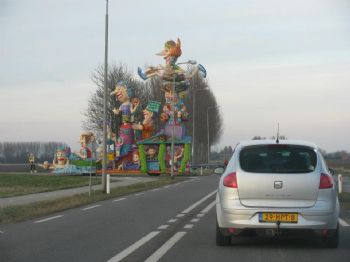 Not exactly Rio, but fun nevertheless!
Today is what we Brits call Shrove Tuesday, or Pancake Day. Shrove comes from the old word "shrive", meaning to confess. Traditionally, the Shriving Bell was rung to call parishioners to church to confess their sins in preparation for Ash Wednesday and the start of Lent. Pancakes were made to use up the eggs, fat, sugar and butter that were prohibited to be eaten during Lent. Pancake Day is still upheld right across the UK and there will be much tossing going on today!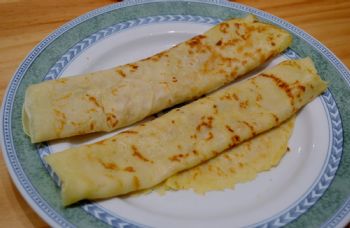 In some places, Pancake Racing is still very much part of the festivities. These races are said to have originated when a housewife, on hearing the Shriving Bell whilst she was cooking her pancakes, immediately raced to the church, frying pan still in hand. Nowadays, races are held around the streets. Competitors must wear an apron and headscarf and toss a pancake whilst running to the finish line. All good fun!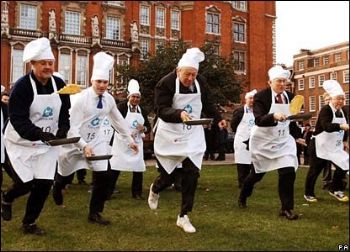 (photo borrowed from a London tourism advert)
So now you know a little about another quirky British tradition!