Monday, February 11, 2013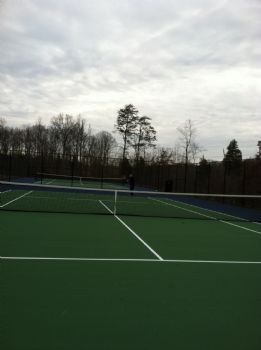 Yesterday the weather turned a bit nice so the husbster finally agreed to go out to the courts with me. Yep, being back in the court felt like old times. I'm not sure how much I have stated this before but I used to play tennis when I was in high school. In fact, I used to train with a retired professional tennis player whom had to retire due to a knee injury that wouldn't allow her to compete anymore. It was an amazing opportunity when younger and I thank my parents so much for allowing me to do so. Then throughout high school I continued to play and compete with the USTA. All throughout this time I continued to keep a good amount of weight on (which my private instructor disliked), it just wouldn't come off though. It is what kept me from playing in university and more professional like some of the other people did when I trained at a private tennis club. Playing tennis for hours upon hours in the summer months off school didn't help anything with the weight. I've just always been over weight and haven't been given the ability to get it off until just the last few years of really watching what I ate. It saddens me that it took so long to get the right information to lose the weight but at least now I can enjoy the courts once again. Now if only I could help the husband learn how to play a bit better... haha He believes if he gets the ball in the fence that it's in and fair game to play. Oh how I have to teach him more... but to give him credit we really haven't played for a few years so maybe with time and me teaching him we can actually hit the ball back and forth. At least we got 1.5 hours in this last weekend and my love for tennis back again.

*Photo: The brand new tennis courts near our house that we don't have to pay to use! (Our gated community charges a membership even though these courts are free and about 1 mile away.) Hooray!