Monday, February 11, 2013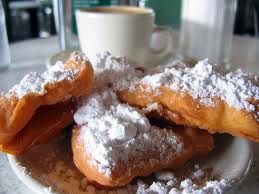 For the 25 years that I have been visiting New Orleans, one of my first destinations has been Cafe du Monde for Cafe au Lait and Beignets. Next week I am headed to New Orleans on business and it will be my first visit sans Beignets.
So it is time for a new tradition in New Orleans. I can still go to Cafe du Monde for my Cafe au Lait but I will leave the Beignets and powdered sugar there. I will go for a walk around Jackson Square and the French Quarter in the early morning with my cup of Cafe au Lait, and I will revel in the sights and sounds (but maybe not the smells!) of New Orleans waking up. I will think about how next time I visit New Orleans, there will be a lot less of me! I can't wait.