Sunday, February 10, 2013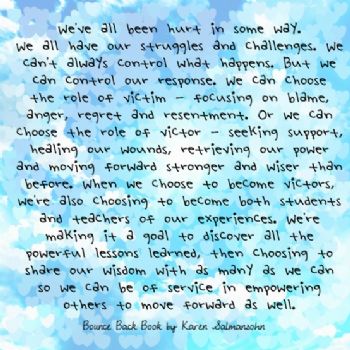 We've all been hurt in some way in our lives. We all have our struggles and challenges. We can't always control what happens. But we can control our response. We can choose the role of victim - focusing on blame, anger, regret and resentment. Or we can choose the role of victor - seeking support, healing our wounds, retrieving our power and moving forward stronger and wiser than before.
When we choose to become victors, we're also choosing to become both students and teachers of our experiences. We're making it a goal to discover all the powerful lessons learned, then choosing to share our wisdom with as many as we can so we can be of service in empowering others to move forward as well.
- Bounce Back Book by Karen Salmansohn -