So, my post for today is about my very first 5k race! My very first race ever!!
Anyways, the goals I set for the race were....
1. Actually start the race (check)
1a. Not get sick before the race starts because of nerves. (not check, but I still raced)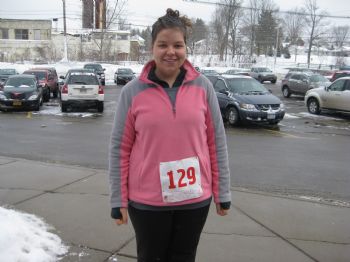 Proof!
2. Try my darnedest to not get lost (Check)
3. Finish the race (check)
4. Finish under an hour (check)
5. Finish under 45 minutes (check)
6. Finish under 42 minutes (I got that time on my Tuesday run) (check)
7. Not be the last one to finish (check)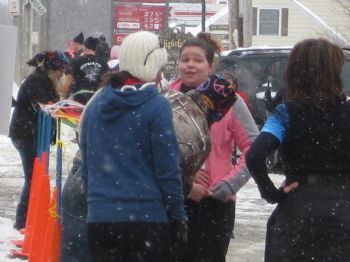 Proof!
And I finished in 36:23 minutes! Umm, wow...
8. Do not die (check)
9. Do not fall (check)
10. Do not die (again) (check)
11. Attempt to have fun (ha ha, funny) (check)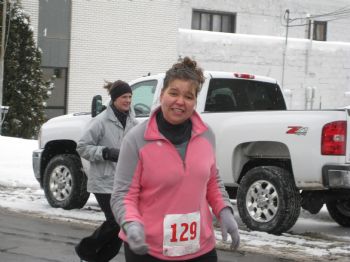 The holy crap i'm freezing face
Oh yes, back to the race...I paced an older woman, that lady could run, I caught up to her about a third of the way through the race and then she just took off! I did always keep her in my sights (partly to keep me motivated that she was beating me, partly because I was afraid I would get lost)...About two-thirds of the way through, a man with a bum leg got between me and the lady so I paced him instead. Then I decided I wasn't going to let him beat me and when we were close to the finish, I passed him and ran like heck.
There were 95ish runners...I knew a few of the runners from growing up and stuff, which was nice because they offered encouragement as they lapped me...which was well appreciated because I couldn't feel any body parts, nor could I breath or think. (Good thing I was pacing someone and not having to worry about that)...
Oh yea, did I fail to mention?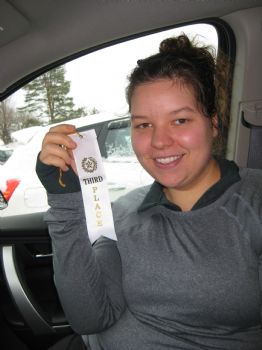 I placed 3rd in my age category at my first race ever! (I am pretending that there were more than 3 of us in that category for women, I seriously can't believe there would only have been three, but seriously, who cares? I'm the one that got the ribbon and that is all that counts)
My lovely mother was in charge of my photography... (so lets have a few laughs)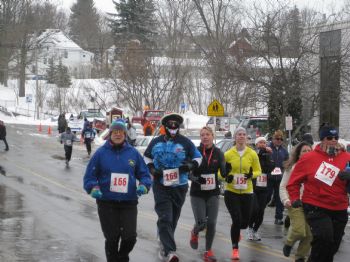 If you squint super hard between the first and second guy, you will see a hint of pink, yea, thats me at the start of the race....thanks mom....
Use your x-ray vision to look through the people and you will see me crossing the finish line....thanks mom, again...
Although I shouldn't blame just her, my grandpa drove through town and was stopped so the runners could run through the intersection. Yea, I was talking to some women wearing a BLACK sweatshirt and wouldn't even wave to him....Seriously? My family is nuts!
All in all, I had a great time, ran faster than I have ever ran and that included a lot a lot of walking....totally going to keep this up and very excited about my next race!!